B.
What is Artbox?
Gallery
While our main building is closed we are still exhibiting real art in real spaces. One of our new spaces is ArtBox.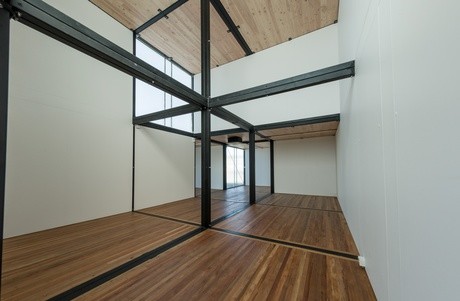 Located on an empty section on the corner of Madras and Tuam Streets, ArtBox is made from a cluster of 2.9 metre cube modules and was set up by CPIT as a short-term (five years) precinct designed to 'seed a return of arts to the central city'.
Compared to our usual gallery spaces, ArtBox has a very compact, narrow layout, with a series of intersecting views. This means the relationship between the works, and between the works and the audience, is especially important. The curators needed to consider how these energetic and arresting works would operate together, and how to fill the ArtBox with texture and colour without overwhelming it.
At several points within the gallery, windows break up the walls and offer a sense of the space outside. They also allow in natural light – a welcome feature, but one that had to be factored into the selection of works. Read about the exhibition currently on at the ArtBox.
The picture above shows the empty boxes; below the view from the street.