B.
Tracing Our Roots
Behind the scenes
When Clayton's grandmother heard that he and his wife Lucy would be travelling to New Zealand as part of their big overseas trip, she mentioned that a visit to the Christchurch Art Gallery for these Londoners would be a must.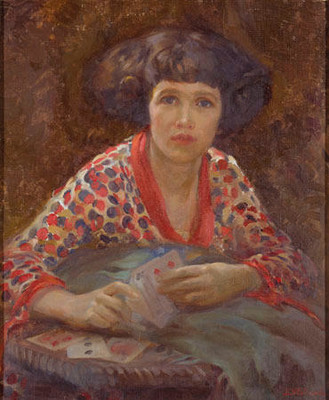 Although I have only come across the work on the Gallery's website myself, Eva's concentrated gaze combined with her distinctive hairstyle and dotted dress have always piqued my curiosity. It was fascinating to meet her great-grandson and his wife in person and to hear how they came to know about her long presence in Christchurch.
The two have been travelling in New Zealand for about a month and half but it was not until Clayton was talking to his mother over the phone recently that he learnt about the painting. He went on to explain that he did not know about his relations in New Zealand until about fifteen years ago when his distant Kiwi relatives contacted them by tracing their own family tree.
"Nan was actually raised by her aunt in London who had moved there from Edinburgh. She didn't know about the painting until our New Zealand relatives came over to the UK to see us. We only found out about the portrait ourselves two weeks ago but we really wanted to come to Christchurch to see it."
As access to works in the collection is currently restricted due to the earthquake damage repairs and strengthening work being carried out on the Gallery building, this unfortunately meant that the two could not see the painting in the flesh this time around. However, they are optimistic about coming back once the Gallery has reopened.
"We're really enjoying New Zealand and already planning our next visit so we'll definitely be back."
Thank you Clayton and Lucy, it was lovely to meet you both and we definitely look forward to seeing you again.
The couple visited our Tuam Street exhibition space last week and got my colleague Deborah and me pretty excited when they told us that Clayton's great-grandmother is a sitter in one of the portraits that the Gallery owns. His great-grandmother's name is Eva Masterton and she appears in the work Fortune?, which was painted by Christchurch artist Elizabeth Wallwork back in 1928. The portrait was presented by the Canterbury Society of Arts to the Robert McDougall Art Gallery in 1932 and was a part of the Gallery's founding collection.