B.
Chapman's Homer at Placemakers Riccarton
Behind the scenes
Following three months outside City Council's building on Worcester Boulevard – Christchurch's favourite bull can now be found at Placemakers Riccarton! That may sound a bit unusual, but these are strange times.
It's only a year since we achieved the ground-breaking target of $200,000 (subsequently matched by Westpac and the Gallery's Trust) by crowd-funding to buy Chapman's Homer. Helping with the purchase of this much-loved sculpture were several 'Leaders of the Charge' and Council's Public Art Fund. Initially shown in Madras Street and later at the Arts Centre during the Arts Festival, he's since been kept safe and secure (but frustratingly unseen) in his crate.
When we reopen, he'll take pride of place on our forecourt. Until then, we're looking for 'bull-sitters' – we'd like him to be seen in different places around the city. Christchurch City Council hosted him where tourists, council and CERA staff and customers got to see him... and now he's off to be seen by a new crowd – builders!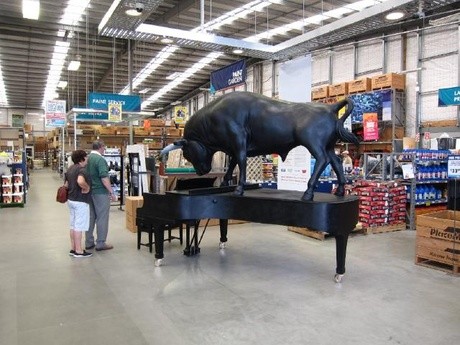 Finding bull-sitters, however, is quite not as easy as it sounds. There are some key requirements:
- First and foremost, you need to share our passion for art.
- With such a large sculpture, a fair bit of space is needed.
- The bull needs to be secure so he's insurabull (I know, it's corny, but just so easy to slip back into the 'bull talk' which dominated our lives during the fundraising campaign).
Grant and Sandra Close, owners of PlaceMakers Riccarton, were among our Leaders of the Charge during the initial fundraising. They've also enthusiastically signed up for our Foundation's new endowment fund. Grant was dead keen to share the bull with his staff and customers. Like us, he believes that good art really matters in Christchurch. He also reckons his customers are creative in how they are helping to craft this new city.
Sounds good to me – and I'm really looking forward to speaking to 200-300 other creative people about the bull at the Pacemakers 'tradies breakfast' this Friday. Almost as much as I'm looking forward to seeing Chapman's Homer on the refurbished Gallery forecourt late next year! In the meantime, it's fantastic that he's visible (or visibull?) again.