B.
Jonathan Ngarimu Mane-Wheoki CNZM, 1943-2014
Behind the scenes
We were all deeply saddened over the weekend to learn of the death of Jonathan Mane-Wheoki (Ngāpuhi ki Hokianga/Te Aupouri/Ngāti Kuri): eminent art historian, scholar, curator, arts leader and cultural advocate.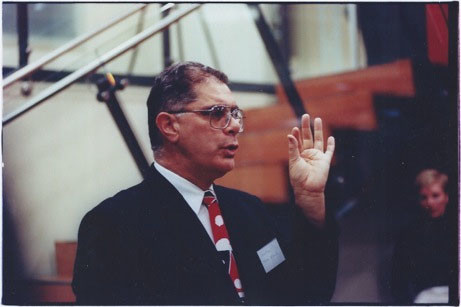 In 1975 Jonathan was employed as a lecturer on the recently-established art history programme at the University of Canterbury, and returned to Christchurch after graduating from the Courtauld. Over the next three decades he was based in Christchurch and taught at Canterbury, becoming Dean of Music and Fine Arts in 2001, and was instrumental in spearheading a move away from a Eurocentric version of art history at UC towards global art histories. He often brought his classes to the gallery on field trips: his teaching was imbued with the agency of art in the world outside the academy. In 1992 he was appointed as Kaitiaki Māori/Curator of Māori Art at the Robert McDougall Art Gallery, an honorary position he held until 2004 when he became Director Art and Collection at Te Papa. He co-curated several exhibitions for Christchurch, including Aoraki/Hikurangi (1994), HIKO! New energies in Maori Art (1999), and Te Puawai o Ngai Tahu (2003).
Appointed head of the Elam School of Fine Arts at the University of Auckland from 2009 to 2012, in 2013 Jonathan returned to Te Papa to take up the position of Head of Arts and Visual Culture. He was made a Companion of the New Zealand Order of Merit for services to the arts in this year's Queen's Birthday Honours and in late September was awarded a medal as Companion of the Auckland War Memorial Museum. He was awarded the Pou Aronui Award from the Royal Society of New Zealand Te Apārangi in 2012 in recognition of his outstanding contribution to the development of the humanities in Aotearoa New Zealand.
Jonathan was a public intellectual, moving back and forth between the academy and the broader realm of museums and art galleries. His research interests ranged from Victorian colonial architecture to contemporary Māori and Pasifika art—but were always, in one way or another, concerned with the connection of people to place and with the expression of identity.
When you look at Jonathan's CV, it's hard to comprehend how he managed to fit it all in: there's several reasonable lifetimes of work listed there. But what's not there on the page among the histories of positions held and papers delivered is what might be his ultimate legacy: his example to others. Jonathan acted as a mentor and matua to at least two generations of New Zealand art history graduates, many of whom now work as art gallery directors, curators, academics and educators in New Zealand and internationally. He kept in touch with his ex-students long after they graduated. (Many of the staff at Christchurch Art Gallery were taught by Jonathan, and credit his enthusiasm for his subject as formative in their own cultural work.) He was also a sounding-board for many prominent contemporary Māori artists.
As a cultural historian, the rigour of Jonathan's scholarship and his capacity to consider different perspectives were exemplary. He sought to illuminate the present by understanding its relationship to the past, and in so doing, point towards possible futures. Affability and enthusiasm for the richness of his subject combined with incisiveness in his analysis of cultural problems. His lectures and writings moved the debate on. Jonathan's great achievement was not only to push the culture forward, but to make space for people within it.
Jonathan was a deeply respected and much-loved colleague, whose contribution to contemporary Māori art history was both essential and transformative. He will be greatly missed both by the New Zealand art world and his international colleagues.
Jonathan had a long association with Christchurch Art Gallery Te Puna o Waiwhetū. He played important roles at various stages in the gallery's modern and contemporary history. After studying fine arts and English at the University of Canterbury, he worked as Exhibitions Officer/Assistant to the Director of the Robert McDougall Art Gallery (the predecessor of Christchurch Art Gallery) in 1971-2, organising film screenings and developing programmes.
When he left Christchurch for London to study at the Courtauld Institute of Art, he continued to act as the gallery's agent, locating and recommending potential works for the collection. Many important acquisitions were made by Jonathan for the city over this period, including Andy Warhol's Mao Tse-Tung, Bridget Riley's Untitled (Elongated triangles 4), and Antoine Coypel's Venus and Adonis, as well as works on paper by Degas, Cézanne, Corot, Piranesi, Lucien Simon, Karel Appel and others.