B.
Ralph Hotere (Te Aupōuri) 11 Aug 1931 - 24 Feb 2013
Behind the scenes
19 February 2014. Posted by Lana Coles
Join us in commemorating the first anniversary of the death of one of New Zealand's most significant and acclaimed artists.
We are screening the film Hotere produced and directed by the late Merata Mita at Alice Cinematheque on Monday 24 February at 6pm to remember a great artist and a humble, gentle, spiritual man.
Moe mai e te rangitira, moe mai
Related reading: Ralph Hotere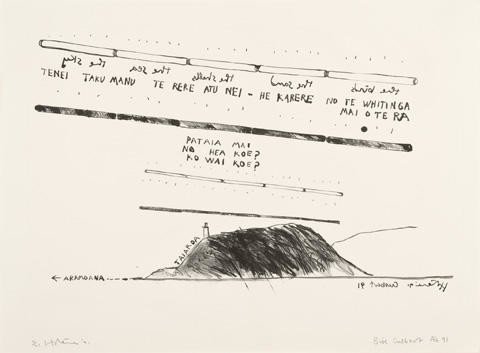 In te reo Māori, Aramoana means 'pathway to the sea'. It's also a small settlement on the Otago Peninsula, near where Ralph Hotere had his studio – and where Hotere and fellow artist Bill Culbert protested against the building of an aluminium smelter, which they were concerned would degrade the harbour. The two were great friends, and Culbert would return to Aotearoa New Zealand most years from his home in Europe (usually during Bluff oyster season) to collaborate on large-scale sculptural works with Hotere. This suite of lithographs extends the ideas of one of Hotere and Culbert's earliest sculptural collaborations, also titled Pathway to the Sea – Aramoana. It features the glasses of wine they enjoyed together, the pāua shells and fluorescent tubes of the installation work, and questions about place and personal identity.
(Te Wheke, 2020)