B.
Victoria in residence
Behind the scenes
This portrait of H.M. The Queen by William Nicholson from our collection has recently popped up in two places on Victoria Street.
It is from the British artist's most famous group of prints, Twelve Portraits, which were studies of the most celebrated figures in English society of that time. The stark contrast between the figure and the virtually empty background gives the subject a strong presence. During the short period he was active as a printmaker, Nicholson's woodblock prints were perhaps the most revolutionary images in printmaking of the late Victorian era.
Born in Newark-on-Trent, Nicholson studied at Bushey's School of Art in London and at the Académie Julian in Paris. He began working with James Pryde, his brother-in-law, from 1894, and they were very successful with the posters they designed under the name of Beggarstaff Brothers. Nicholson also exhibited with the International Society of Sculptors, Painters and Gravers and was a founder member of the National Portrait Society. Nicholson was knighted in 1936.
A large reproduction of this work was installed on the side of the Casino this week, as part of our Faces from the Collection project, which aims to repopulate the city and remind us of our treasured collection.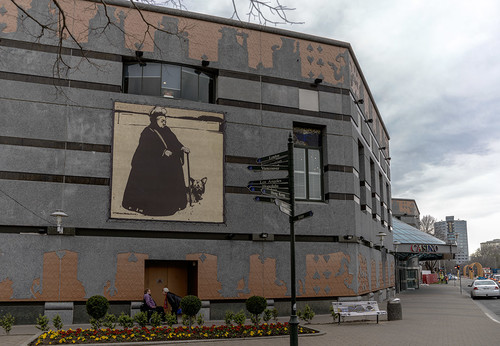 I also found Her Majesty at Jonny Schwass's newly opened Harlequin Public House on the corner of Salisbury, Montreal and Victoria streets. Formally Ironside House, the 1899 English Domestic Revival building has been beautifully restored and Queen Victoria is etched into a glass panel by the powder room door. It's worth a look, as is the cocktail and wine list.