B.
Cleaning Jacksons
Behind the scenes
Gallery conservator Edward Sakowski describes several years work making Petrus van der Velden's painting Jacksons, Otira ready for exhibition. The painting was purchased at auction in London.
This procedure was also described in issue 157 of Bulletin.
Before arriving in New Zealand, the back of this painitng had been exposed for a long period to water penetration. This caused a very large area of damp canvas on the left hand side and at the bottom of the image. The dampness of the canvas and then its rapid drying caused areas of ground and paint separation from the support. It also caused very substantial structural losses while in transit from Briatin when the painting was subjected to many hours of constant vibration.
Most of the loose fragments were collected, numbered and placed in plastic bags. Unfortunately at that stage it was not possible to put them all together. This process would require computer help to place each piece in the right place. This big puzzle – there are over 400 pieces of broken paint film and some of them are very very small - is still waiting for a computer wizard!
Prior to any conservation treatment the painting is examined to determinate its structure and condition. Following the examination of the painting, solvents tests were performed to determine the most suitable mixture to remove surface dirt, dust and yellow varnish.
The next stage of the treatment was to compensate losses of the paint. New synthetic gesso has been placed in lacunae and after many hours its surface was artificially cracked and sculpted.
Removal of the surface dirt, dust, and yellow varnish was visually very dramatic. More landscape details were brought to light. The structural losses were filled and the visible paint losses been made less visible during the process called inpainting.
Prior to inpainting, the work was varnished and this stage allows the conservator to accurately match the colour of the new inpainting with the painting's saturated original colour.
The contemporary inpainting medium used by conservators for oil painting is mostly powdered pigments mixed with acrylic resin. This can show differences between the original paint and that applied by the conservator.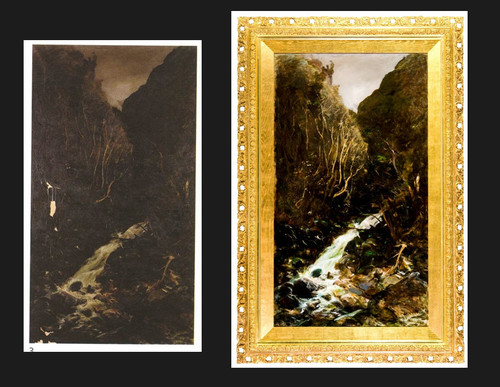 The painting was on and off the conservator's table regularly during the period between 2003 and 2008.
After inpainting, the work was given a final coating of dammar varnish to achieve a unified surface and further colour saturation. After this the painting was returned to its frame – which had also been restored – and made ready for its return to exhibition.