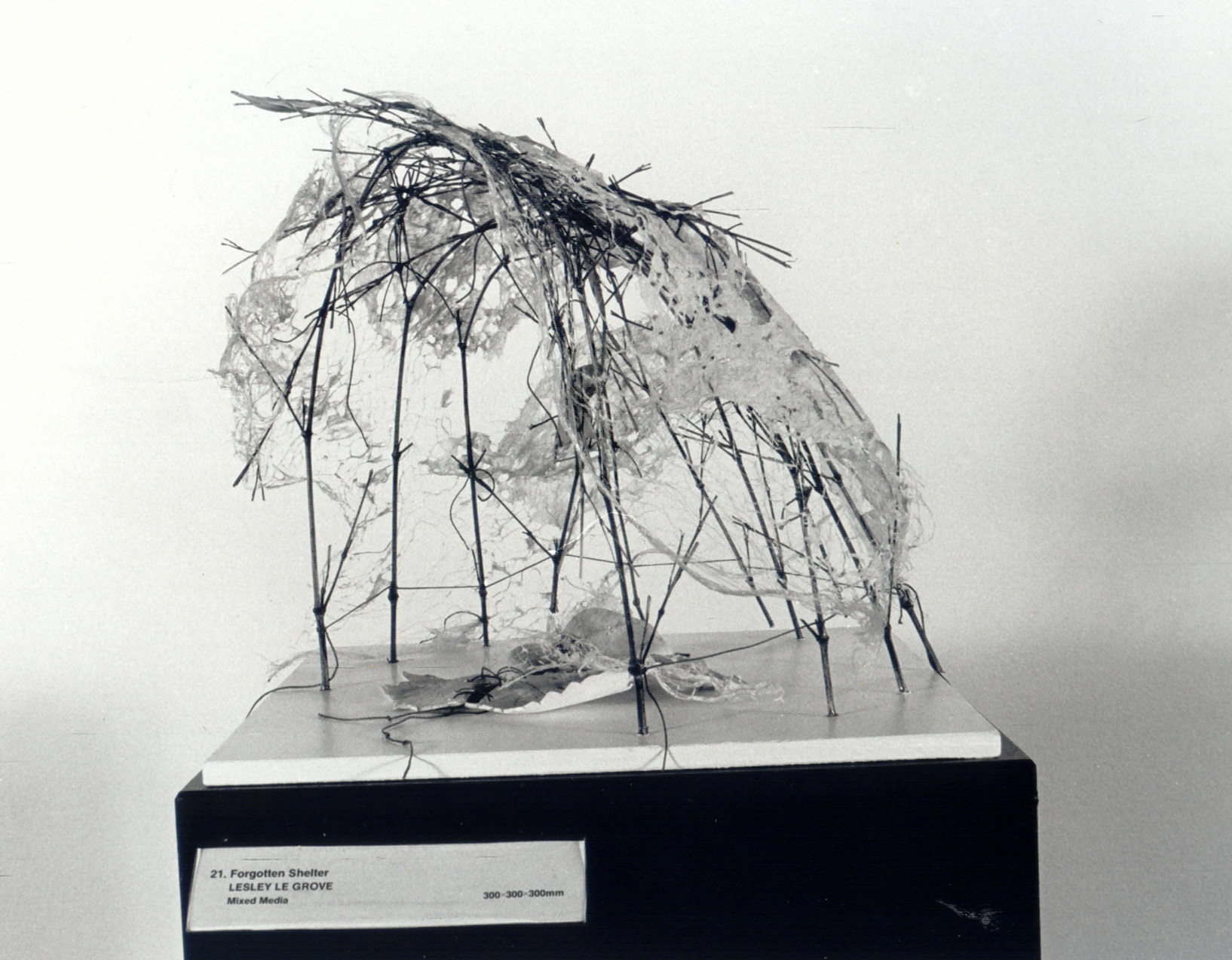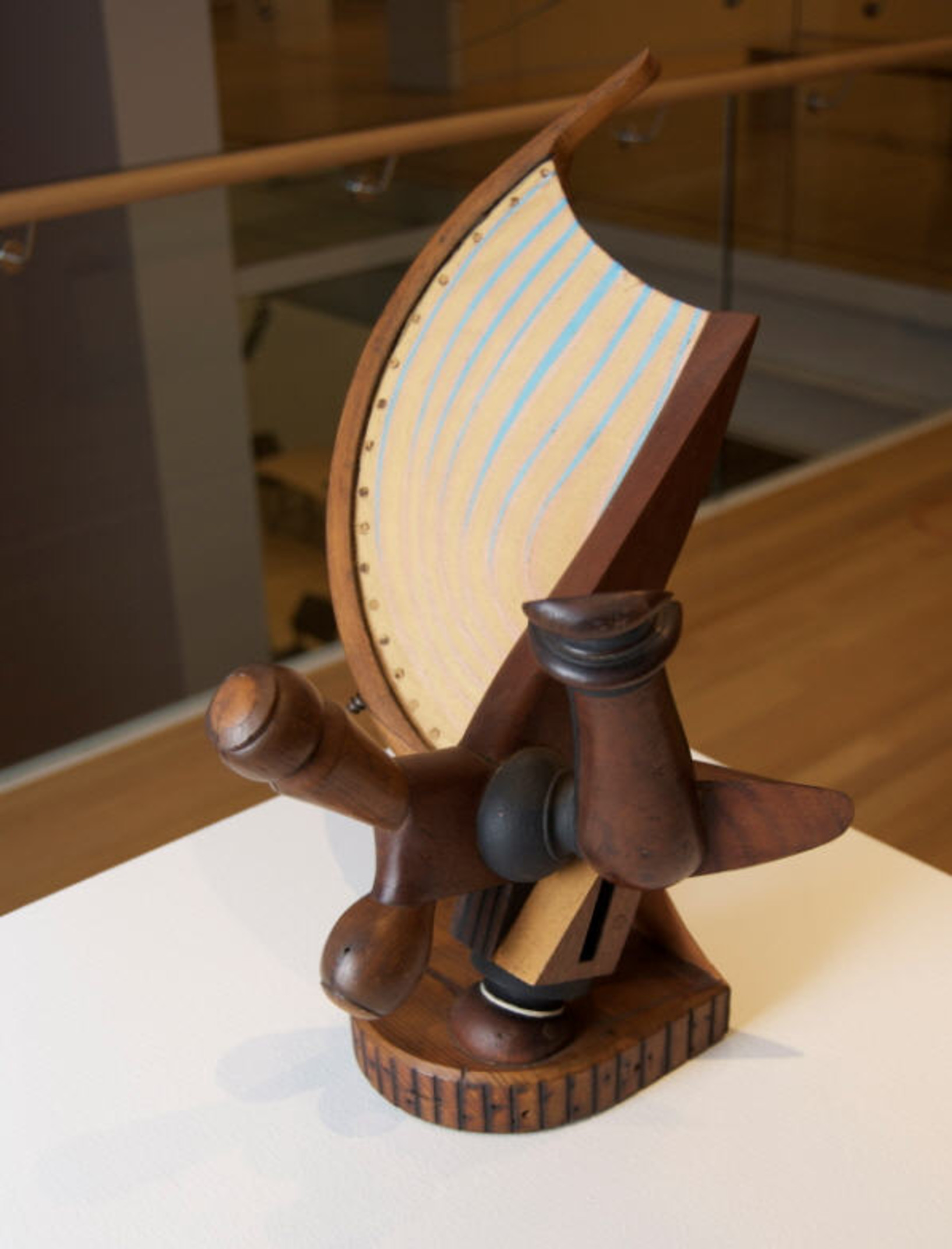 This exhibition is now closed
Objects now classified as sculpture are frequently neither modelled nor carved, but are glued, nailed, or even welded into a sculptural unit from odds and ends of material picked up here and there – junk proving to be the most popular.
The 'found object' has its art historical ancestor in the 'readymades' of Marcel Duchamp (1887-1968), who by violating and mocking traditional art values, helped to clear our eyes of habitual ways of seeing and our responses from habitual ways of feeling. Duchamp's purpose, however, was not to increase our interest in ordinary objects, but to deflate the pretensions of nineteenth century 'experts'. His 'Fountain' – a urinal illustrated this point well!
"Dada", an anti-art movement during the decade of World War I, promoted the idea that any object could become art in its own right. From this period arose the expression objet trouve, meaning 'found object'. By using 'real' or 'found' objects in an assemblage, taking items from their usual environment and placing them out of context, the artist transposes them into a work of art.
This is what the Spare Parts exhibition is all about. Curated by the Robert McDougall Art Gallery it is an invitation exhibition displaying works by twenty four artists from throughout New Zealand – the objet trouve in contemporary New Zealand art. The works are varied in concept and in composition. Inanimate objects which have suffered their own form of social rejection, are resurrected to have new life and new meaning as components of art works.
The work of Ann Verdcourt, for example, is a painted and stained wood assemblage with small amounts of metal and ceramic, containing the following components – 1 tangelo box, 2 ½ beer crates, 2 nail boxes, 1 cigar box, 1 tea box, 1 machine tool box, 2 instrument boxes, 1 hat block with expanding screw, 1 bread board, 1 set square, 1 rule, 2 chair dowels, 1 table leg dowel, 1 white wash brush, 2 wooden bowls, 2 yarn spools, 1 marker, 4 wooden spoons, 12 labels and string, 1 chair back (cut up), some spare ceramic figures, and some plastic mummy figures. Di Ffrench's 'The Opinion' on the other hand, is a multi media installation using film, soundtrack, mechanical devices and assemblages, to illustrate 'The Opinion' of the Self, the ego, the critic. The paper stack (illustrated) represents layers of opinion eroded and spat out by the mechanical mouth erosion of power support.
The late Edward Bullmore, Don Driver, Jane Zusters, Bill Hammond and Sam Mahon are other artists exhibiting. All pieces possess a distinctly personal style and represent a survey of the state of assemblage art in New Zealand.
To complement the theme of Spare Parts, the Incidentals will be playing at the opening of this exhibition on 26 September. The Incidentals is a performance ensemble consisting of three artists: Paul Sutherland, Paul Cook and Gail Wright. Each have individual skills intersecting in the incidentals. For them, composition and performance are a simultaneous and live procedure. They desire to attempt a new music, a new art out of nothing, free from the associations of the past – an investigation of this place, at this time, using these things.
('Spare Parts', Bulletin, No.41, September/October 1985, pp.1-2)
Date:


26 September – 3 November 1985

Exhibition number:
348
Collection works in this exhibition
3 items