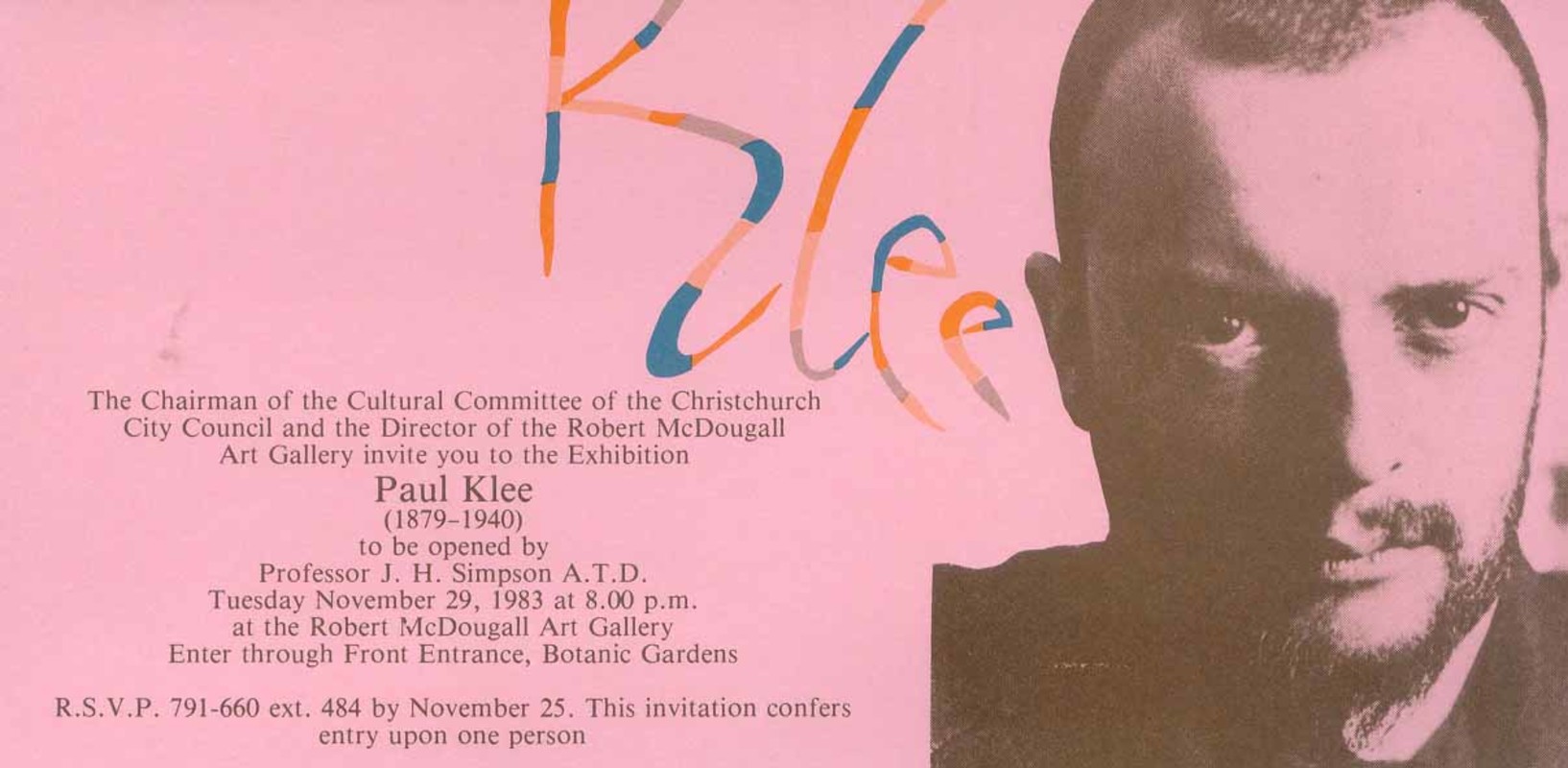 This exhibition is now closed
An exhibition of paintings and drawings by one of the 20th century's most unique and remarkable painters
We are delighted to be able to report that after negotiations with the Paul Klee exhibition's New Zealand organisers, the Auckland City Art Gallery and Nordrhein-Westfalen, the McDougall will be presenting 61 works by the modern master Paul Klee to the Canterbury public.
The $17,000,000 exhibition's presentation in Christchurch is still dependent upon some local sponsorship. If suitable sponsorship is forthcoming, the exhibition will be shown at the Robert McDougall Art Gallery from November 30th to January 23rd. The Government is being asked to indemnify the works for the Christchurch venue.
Paul Klee is acknowledged by art authorities as being, with Picasso and Kandinsky, one of the three founding figures of modern painting. His reputation has steadily increased since the Second World War as has the general popularity of his work.
The exhibition is the first exposure of Klee's work in New Zealand. It covers a period from 1912 – 1939 Klee's paintings show his inventive genius in his very distinctive colourful, whimsical, witty and sometimes troubling images. His paintings with their striking original style, delightful colour and fantasy are now widely recognised as being among the most accessible and appealing of any major 20th century artist.
The Dusseldorf Klee collection was purchased as a block purchase in a sensational transaction of 1960 from the Pittsburgh industrialist G. David Thompson as part of a conscious desire to enhance the image of Dusseldorf as a state capital and as part of the German "economic miracle". The collection is available only in this period leading up to the completion of a new art museum in Dusseldorf. After that is completed the remarkable Klee collection will no longer be available for tour.
Paul Klee was born in Munchenbuchsee near Bern on December 18th 1879. He settled in Munich in 1906 and in 1912 came into Contact with the "Blaue Reiter". A significant event was his meeting with Delaunay in Paris in 1912. Together with Macke he travelled to Kairouan in 1914. He served in the armed forces from 1916 to 1918, then participating in Walden's "Sturm" gallery. From 1920 until 1931 he was master at the Bauhaus in Weimer. From 1924 onwards he exhibited with Feininger, Jawlensky and Kandinsky under the nom de guerre "Die Blauen Vier". In 1931 Klee took over a painting class at the Dusseldorf Academy. As political developments prevented him from practising as a teacher, he returned to his native Bern in 1933. There he painted, suffering deeply in his final illness. He died in Muralto Locarno on June 29th, 1940.
('Stop Press – Paul Klee at the Robert McDougall Art Gallery', Bulletin, No.29, September/October 1983, p.2)
Exhibition number 308
Date:


30 November 1983 – 23 January 1984

Exhibition number:
308