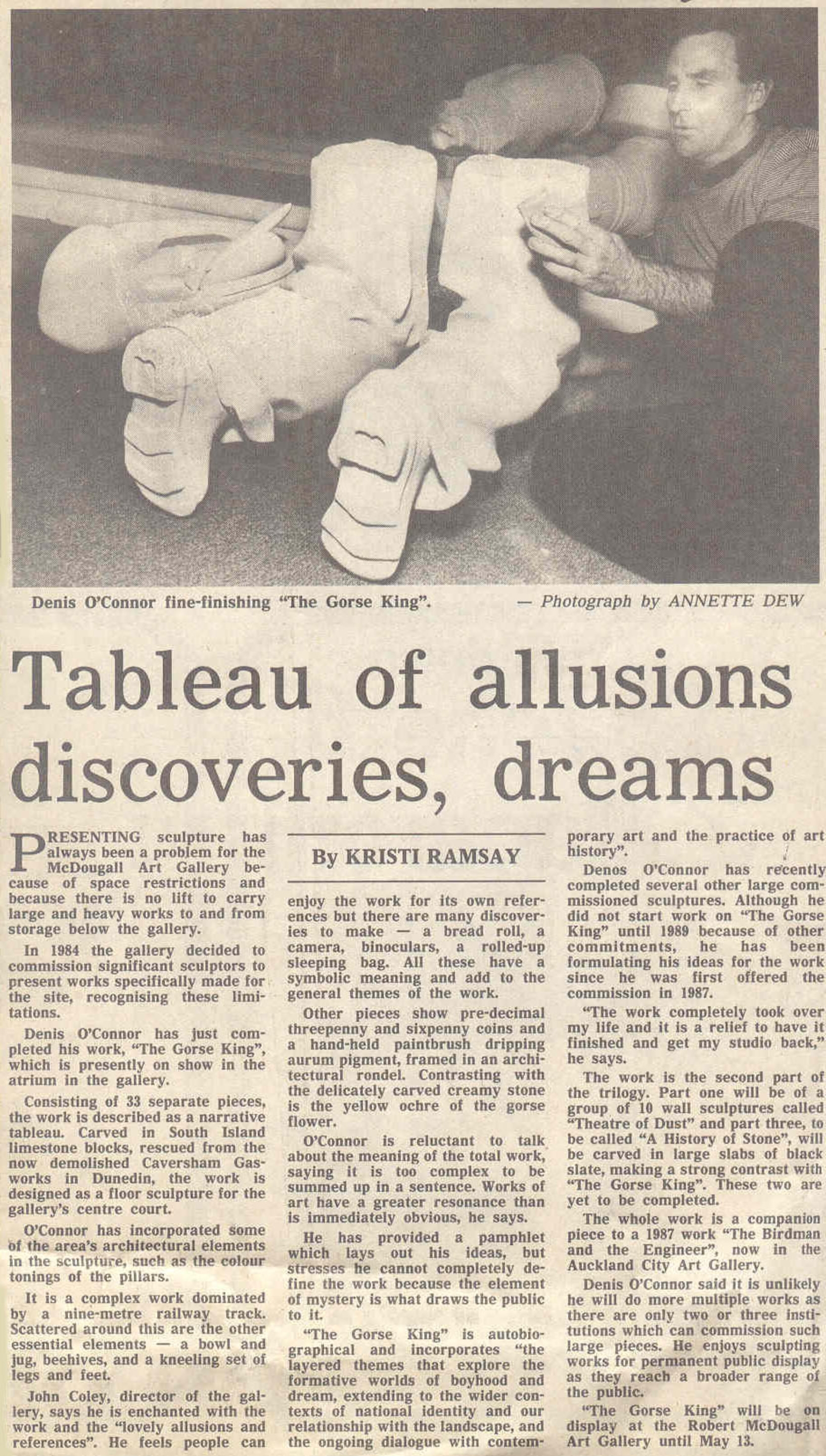 This exhibition is now closed
In 1984 after considering some of the space restrictions which the gallery presented for sculpture it was decided that periodically a site specific work would be commissioned.
The following year Canterbury sculptor Bing Dawe was invited to make a work for the aerial space of the gallery's centre court.
This resulted in a sculpture titled:
Still keeping his balance he used the umbrella as a safety net - image of a man with missile, being completed in 1985.
In 988 a similar invitation was extended to Auckland artist Denis O'Connor. However due to other commitments he was unable to undertake the commission until 1989.
Since the beginning of 1987 Denis O'Connor had been making preparatory drawings for a large carved limestone narrative which was autobiographic.
This work which he titled Gorse King was intended to be executed as a trilogy. Its thematic concerns O'Connor considered would "explore the formative worlds to which would be added a more visionary dimension". Following his acceptance of the commission Denis O'Connor visited the Gallery in October 1989 and selected the site for his work. He proposed The Gorse King which was to be part two of the trilogy. Part one was to be ten carved wall sculptures entitled Theatre of Dust (The Father) and part three A History of Stone (the Holy Ghost) would comprise photographs and poetic texts.
After a long period of gestation from the sketches of 1987 O'Connor assembled stone shipped up to his Waiheke Island studio in February 1991. Over the flowing months he worked the pieces beginning with four metres of carved railway track.
The Gorse King carved in South Island limestone rescued from the now demolished Caversham gasworks in Dunedin is designed as a floor sculpture for the gallery's centre court. In conceiving the work O'Connor used many of the architectural details which decorate this space as a source of ideas and these were combined with those from vernacular and industrial traditions. These were, in turn heightened by what O'Connor has described as "the layered themes that explore the formative worlds of boyhood and dream extending to the wider contexts of national identity and our relationship to the landscape and the on-going dialogue with contemporary art and practice of art history". The imagery in The Gorse King has varied associations and allusions, however each is correlated and is part of a central dominant theme.
The essential carved elements of the sculpture include railway track, a bowl and jug, beehives and a kneeling figure.
Exhibition of The Gorse King installation will continue until May 13, 1992.
('The Gorse King', Bulletin, No.79, May/June 1992, p.2)
Date:


11 April – 13 May 1992

Exhibition number:
504
Collection works in this exhibition
1 item