b.1897, d.1954
Three Bathers
1951
Wood engraving
Transferred from the Canterbury Public Library, 1995
252 x 191mm
95/26
Recognised internationally for his wood-engravings, John Buckland Wright originally came from Ōtepoti Dunedin and moved to England at a young age. He became interested in wood-engraving in the mid-1920s and taught himself the medium. Living in Brussels at this time, he joined De Vijf, a group of contemporary Belgian woodblock printers. He gained a reputation for book illustration and was commissioned to cut wood-engravings by some of the most celebrated private presses, including The Golden Cockerel Press.
Ink on Paper: Aotearoa New Zealand Printmakers of the Modern Era, 11 February – 28 May 2023
earlier labels about this work
During the 1950s John Buckland Wright produced a number of prints in which female figures appear on deserted beaches. He has given a classical, idealised feeling to this work with the elegant poses of the bathers, the robes on the figure in the foreground and the tranquil setting. Buckland Wright was a significant figure in British printmaking and book illustration during the first half of the 20th century. Although self-taught, he displayed a masterly technique. His detailed work was ideally suited to the woodcut medium. Born in Dunedin, Buckland Wright travelled to England with his mother and siblings after his father died in 1901. During World War One he was awarded the Croix de Guerre for gallantry. Buckland Wright worked as an oil painter, etcher and engraver. He exhibited with the London Group and the Society of Wood Engravers and his book illustrations were done largely with the Golden Cockerel Press. From 1948 he taught at both the Camberwell School of Art and the Slade School of Art

(Label date unknown)
Related reading: The Golden Age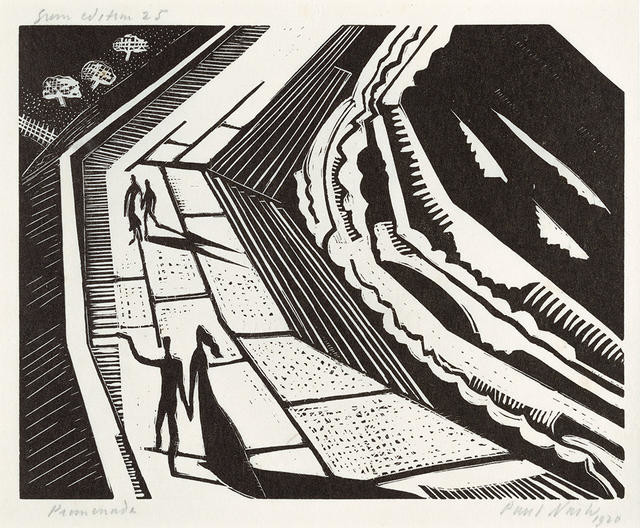 Paul Nash was a member of England's Society of Wood Engravers in the 1920s, and this work, one of his earliest wood engravings, highlights his instinctive approach to the medium. Rather than be tied down by traditional wood-engraving practices of precision and accuracy of line, his mark-making is free and immediate. A jagged, hard-edged perspective intensifies the scene. The waves breaking on the seawall form a series of varied, simplified patterns and shapes. The elongated figures, dwarfed by the wall, intensify the scale of the structure. Nash's rough and intuitive techniques in cutting the end-grain wood serve to intensify the image and highlight an artist approaching a medium with much tradition under his own terms.