1931
Linocut
Presented by Rex Nan Kivell, 1953
350 x 270mm
94/198
A New Zealand-born artist of German parentage, Frank Weitzel pursued art studies in San Francisco, New York and Munich before moving in 1928 to Sydney in his early twenties. There he established a reputation within modernist circles with his sculpture and textile designs, exhibiting alongside other well-travelled artists including Dorrit Black, Grace Cossington Smith, Roy de Maistre and Roland Wakelin.
Weitzel moved to London in 1931, attracting critical attention while showing with artists such as Jacob Epstein, Paul Nash, John Nash and the printmaker Claude Flight, whose cubist- and futurist-influenced linocuts impacted his new work. Taking on sculpture commissions, he also designed posters for Shell and the London Underground, and planned to exhibit in Berlin, San Francisco and London. His life was tragically cut short, however, in 1932 by tetanus poisoning.
At the height of his promise, he was just 26. (In Modern Times, 18 December 2015 – 11 September 2016)
earlier labels about this work
By 1930 Frank Weitzel had developed a strong interest in abstract compositions. His Abstract Design is a delightful study of overlaid abstracted forms which combine to create a rich patterning of shapes and colours. Weitzel was born in Levin, New Zealand, and studied at the Wellington Technical College. In 1923 he was awarded a scholarship to study at the Californian Institute of Fine Arts, and by 1928 he had settled in Sydney. Around 1930 Weitzel moved to London where he studied under Claude Flight at the Grosvenor School of Modern Art. He was only 26 years old when he died of tetanus. (Label date unknown)
Related reading: In Modern Times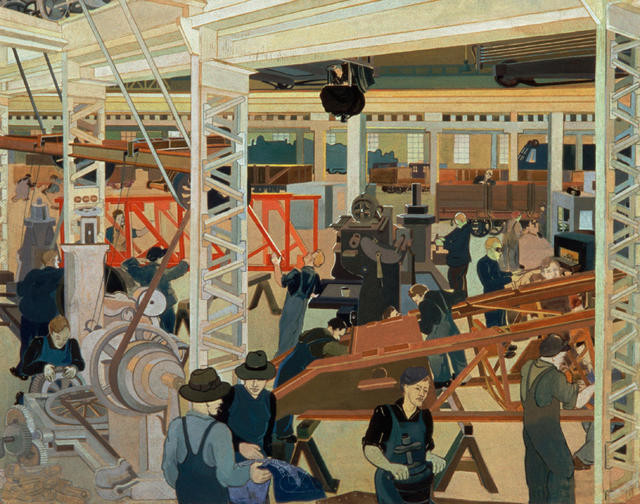 I recently wrote about Louise Henderson's painting Addington Workshops (1930) for the Press, and wanted to locate the place in which she stood to make the sketch for the work. It's a complex image and I wanted to understand more about its internal space as well as its history, but the workshops were demolished twenty years ago.