1990
Painted steel
Purchased 1990
1260 x 2040mm
90/55
Neil Dawson's sculptures consistently explore the slippage between appearance and reality. We think we see solid forms, but on closer inspection they turn out to be illusions.
Whiteout conveys Dawson's fascination with these ideas and playfully challenges our perceptions of space and movement. This wall sculpture is reminiscent of the early structures of the Dadaists and Russian Constructivist sculptors Vladimir Tatlin (1885–1953) and Antoine Pevsner (1886–1962) in the early 20th century. Dawson is one of New Zealand's leading contemporary site-specific artists. His innovative use of sculptural materials and principles of perspective are evident in this early example of his work.
Born in Christchurch, Dawson studied at the University of Canterbury School of Fine Arts and the National Gallery of Victoria Art School, Melbourne. He has exhibited widely and has several major public installations in New Zealand and internationally.
Related reading: Op + Pop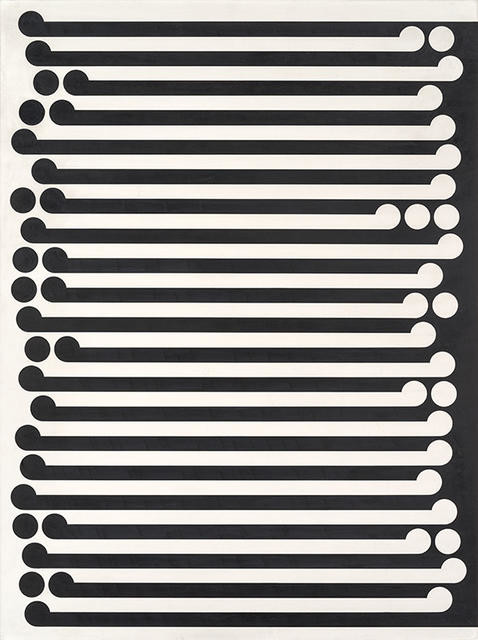 Gordon Walters is best-known for work that fused the influence of European modernist art and Māori and Pacific art forms, particularly the koru motif of painted kōwhaiwhai rafter designs. Walters' influences from European modernism included the hard-edged geometric abstractions of Victor Vasarely and Auguste Herbin, seen while in Europe in 1950–51. Walters made his first optically charged 'koru paintings' in 1956, but didn't show them until 1966 when he first exhibited this painting in Auckland.
Walters' adaptation of the koru has been both admired and criticised by cultural commentators. Walters himself, when discussing the motif, increasingly focused on the fine mechanics of abstraction:
'What I've done to the form is push it more in the direction of geometry. So that I can have in my painting not only a positive/negative effect of black and white, but I can also have a working of vertical and horizontal, which is equally important.' (Op + Pop, 6 February – 19 June 2016)