1985
PVA/acrylic on canvas
Purchased, 1987
Reproduced courtesy of the Gordon Walters Estate
915 x 585mm
87/22
New Zealand painter Gordon Walters started making his optically charged paintings in 1956, four years before the British painter Bridget Riley, op art's principal exponent, began working with similar ideas. Walters' explorations owed much to his study of Māori and Papua New Guinean art and their positive/ negative treatment of space, and to the abstract modernist painting he had seen while in Europe in 1950–51. Although best-known for his koru (fern bud motif ) paintings, his later, more simplified works remained equally visually challenging.
(Op + Pop, 6 February – 19 June 2016)
earlier labels about this work
In this work Gordon Walters invites the viewer to consider the relationship between colours and shapes, without the distraction of textured surfaces and visible brushstrokes.

In the Op Art tradition, the colour introduces an element of ambiguity, as the rectangles seem to hover or retreat, creating dynamic movement and space. The Minimalist Geometric puzzle creates perceptual tensions within the picture plane. This is an exercise of intellect, knowledge and technique. Remarkably, the lines were created without using masking tape or a ruler. Walters is seen as one of New Zealand's leading Abstractionist painters. His technical skills, and his continued development of the minimalist abstract idiom, are exemplified in Untitled.

Walters was born in Wellington and began studying art at Wellington Technical College in 1935. He began painting full-time in 1966. He moved to Christchurch in 1976 where he lived until his death. He exhibited extensively nationally and internationally and is represented in all the major art institutions of New Zealand. (Label date unknown)
Related reading: Op + Pop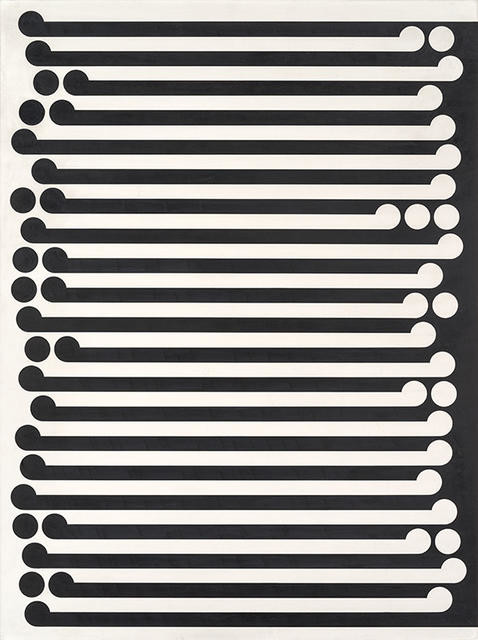 Gordon Walters is best-known for work that fused the influence of European modernist art and Māori and Pacific art forms, particularly the koru motif of painted kōwhaiwhai rafter designs. Walters' influences from European modernism included the hard-edged geometric abstractions of Victor Vasarely and Auguste Herbin, seen while in Europe in 1950–51. Walters made his first optically charged 'koru paintings' in 1956, but didn't show them until 1966 when he first exhibited this painting in Auckland.
Walters' adaptation of the koru has been both admired and criticised by cultural commentators. Walters himself, when discussing the motif, increasingly focused on the fine mechanics of abstraction:
'What I've done to the form is push it more in the direction of geometry. So that I can have in my painting not only a positive/negative effect of black and white, but I can also have a working of vertical and horizontal, which is equally important.' (Op + Pop, 6 February – 19 June 2016)