1949
Wood engraving
Purchased 1972
168 x 116mm
72/25
Nature was the predominant theme in Eileen Mayo's work throughout her distinguished career as a printmaker, painter and designer. She wrote and illustrated numerous books on subjects as varied as seashells, birdsand cats, including her monumental book The Story of Living Things and Their Evolution (1948). She was fascinated with the variety of forms and shapes of plants, and her subject in this work reflects the year of the seasons, as opposed to the calendar year, that begins with the emergence of spring flowers such as these crocuses.
earlier labels about this work
Eileen Mayo's woodblock prints were often concerned with subjects relating to nature and New Year reflects, not the calendar year, but the year of the seasons that begins with the emergence of spring flowers, such as these crocuses. The woodblock print is highly stylised and shows Mayo's work to be very precise and accurate. Detail such as this required great patience and skill. Woodblock prints experienced a revival in England during the 1940s and 1950s. Born in Norwich, Mayo was introduced to wood engraving by her teacher, Noel Rooke, when she was studying at the Central School of Arts and Crafts in London. She later studied linocuts under Claude Flight (1881 -1955). In 1928 Mayo exhibited in the 'First Exhibition of British Linocuts' at the Redfern Galleries, London. Mayo published and illustrated a number of books based on nature. In 1953 Mayo left London for Sydney, then in 1962 moved to New Zealand. She taught at the School of Art, University of Canterbury between 1967 and 1972.
Related reading: The Golden Age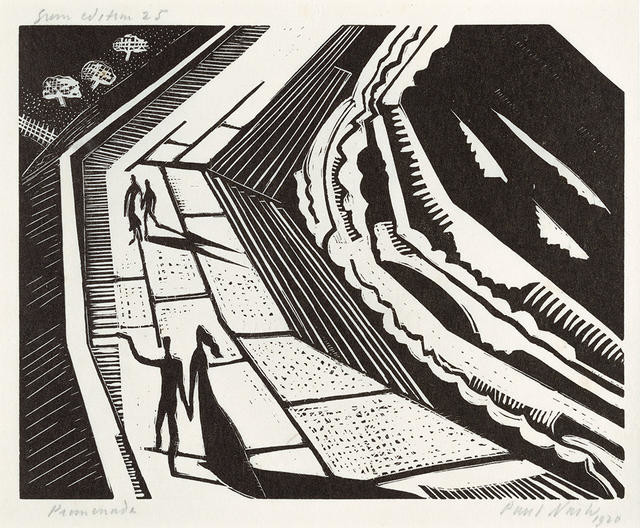 Paul Nash was a member of England's Society of Wood Engravers in the 1920s, and this work, one of his earliest wood engravings, highlights his instinctive approach to the medium. Rather than be tied down by traditional wood-engraving practices of precision and accuracy of line, his mark-making is free and immediate. A jagged, hard-edged perspective intensifies the scene. The waves breaking on the seawall form a series of varied, simplified patterns and shapes. The elongated figures, dwarfed by the wall, intensify the scale of the structure. Nash's rough and intuitive techniques in cutting the end-grain wood serve to intensify the image and highlight an artist approaching a medium with much tradition under his own terms.