1925
Etching and aquatint
Purchased 2001
370 x 265mm
2001/137
Christ Church Cathedral, a defining symbol of this city since its consecration in 1881, was designed by the English architect George Gilbert Scott, with input from the local supervising architect Benjamin Mountfort. In its present earthquake-damaged state it represents a significant challenge for this city's church, civic and cultural leaders.
James Fitzgerald and the younger John Mills Thomasson were both British-born commercial artists who settled in Christchurch: Fitzgerald in 1923, after twenty years in Auckland, and Thomasson after serving in Mesopotamia (Iraq) during World War I. Both produced etchings of local Christchurch views and exhibited with the Canterbury Society of Arts.
(Above ground, 2015)
Related reading: Above Ground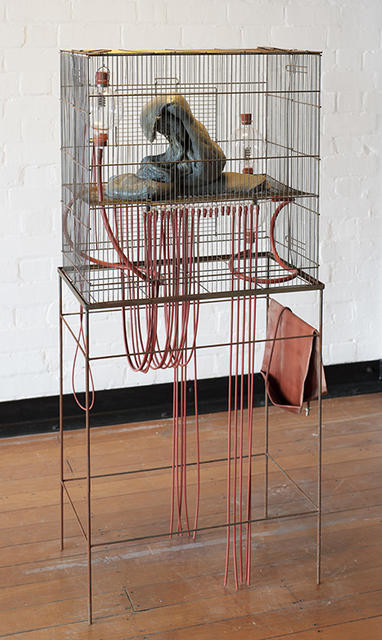 Julia Morison's 'Some thing, for example' is like a broken life-support system for the waiting, blob-like entity which, although securely caged, seems more traumatised than dangerous, and without anybody to administer aid.
Like all who experienced the 2010–11 earthquakes in Canterbury, Morison, living near the edge of Christchurch's cordoned 'red zone', was delivered a frequent heightened dose of adrenaline. With this, she encountered new aesthetic possibilities in found, discarded objects; sculptural media of a kind that the physical environment had never previously supplied. From a situation of dislocation and abandonment, she has created work of an unexpected material and formal beauty. (Above ground, 2015)