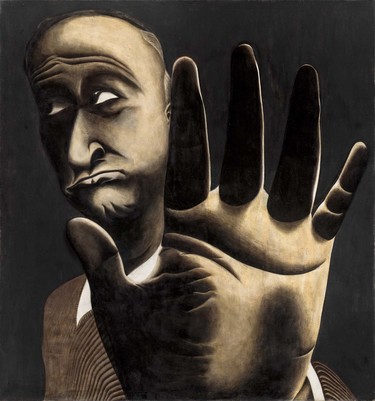 Tony Fomison's No!
I've chosen this because it's probably Tony's best-known painting (it's the one that the Gallery chose to upsize onto an inner-city wall) and because it's emblematic of his art, which was confrontational and definitely not user-friendly. In a long profile I wrote of him in the 1970s he said of his middle-class patrons: 'I've got a bee in my bonnet about them. They're the swine I rely on to buy my paintings. I hope these paintings fester on their walls and they have to take them down and put them behind the piano. I hope the paintings get up and chase them round the house.'
I also chose it because it reminds me of Tony, who was a good friend for years (precisely because we lived in different worlds). For a brief period, I was a near neighbour at his Linwood family home and I kept in touch with his mother for decades.
I knew Tony the artist – I had some fun with him and his partners-in-crime, Phil Clairmont and Allen Maddox (all three of them dead long before their time; Tony only made it to fifty). I attended one of the painful Auckland sessions where Tony got his full-body traditional Samoan tattoo, turning himself into a living Pacific artwork (the tattooist described the process to me as feeling like 'a hot iron up the arse').
I've kept the letters he wrote me in his unique spidery hand, and they form the most vivid record of the 'life of the artist'. My favourite is his description of the events which led to him being stripped of the residency at the Rita Angus Cottage in Wellington in the 1980s. And I was there at the end – Llew Summers and I were among the pallbearers at his extraordinary three-day Auckland funeral.
But mainly, I knew Tony the political man (up until his 1990 death he was a member of the organisation that I have fronted for many decades). The man who got his ribs broken in a 1981 Springbok Tour protest in Auckland. The man who came on a 1970s Christchurch protest against US bases with a homemade placard that read 'Gay Liberation Front supports this march – so look out, us camps say 'No' to US camps'. Tony brought his own unique style to everything he did. 'I decided my best way to protest was through my painting.'
I chose No! because it symbolises so much of what Tony rejected in art, politics and life. He was a one-off and he expressed that with his art. And I end with a plea to the Gallery. Tony Fomison was a major New Zealand artist who came from Christchurch – the Christchurch Art Gallery needs to have more of his work.