Anticipation and Reflection
Visiting Bridget Riley's Studios
This is a time of considerable anticipation at the Gallery: Bridget Riley's new work for Christchurch is due for completion in late May 2017. A wall painting, it's the fourth of five significant works chosen to mark the long years of our closure for seismic strengthening following the Canterbury earthquakes of 2010–11. It has been paid for, sight unseen, by a group of wonderful women donors, with further support for costs associated with its installation secured by auction at our Foundation's 2016 gala dinner.
But, as well as being grateful to so many for so much support, I'm reflecting on an enduring acquaintance with the artist whom we've commissioned, for I've known Riley and admired her work now for more than thirty-five years. Not that I was there at the beginning of her lengthy and stellar career. By the time I met Riley in 1981, she was internationally recognised as an abstract painter and I was seeking to write my M.Phil thesis on her work. I had seen two exhibitions of her work in London, at the Rowan Gallery and at the Warwick Arts Trust, and I was entranced with her accomplishment. Concurrently showing a body of curved, wavy works in one venue and introducing the so-called 'Egyptian' series at her dealer's gallery, these were knock-out shows.
I had made a deliberate career change when I was thirty and had turned to studying twentieth-century art history at the University of London's Courtauld Institute of Art. With all its galleries, libraries and other resources, London was an amazing place to study, and our tiny postgraduate class was both challenging and transforming. Conscious that my future was likely to be in the Southern Hemisphere, however, I sought to write about an artist with an international reputation and, in general, my preference was for an accomplished woman. So I was pleased when, after being approached by the late John Golding – a distinguished art historian, and one of my teachers – Bridget Riley agreed to discuss my research project.
And so began numerous visits to Riley's studio in Holland Park. I cycled through back streets to see her two or three times a week; I watched her work and questioned her endlessly. I happily fitted into her household, having lunch with her and her assistants; for Riley it's a daily convention that endures – a time to refresh the eye and to relax from the carefully painted curved, or the even more demanding straight, line.
Working my way through a wealth of media clippings, I became fascinated by how reviewers sometimes had reflected on the way her work developed within self-imposed and intentional limits. But just as often they diverged from her concerns and became caught up in some other context or debate; at this time the critical and theoretical frameworks of post-modernity were yet to be applied, at least within mainstream art history, and we considered the artist's intention a privileged key to its understanding. There's still much to be said for this and it's important that quality information is assembled while good artists are still active.
During this time I became aware of Riley's intense dislike of the 1960s term 'Op', which was applied to her work following the inclusion of some early black and white paintings in The Responsive Eye in New York's Museum of Modern Art1 – she felt it denoted little more than a passing fad. I could sense her outrage when an image of hers was reproduced on lengths of fabric for the fashion market and when copyright legislation in the United States at this time did not support her rights of ownership.
Consciously working within the traditions of high art, Riley had rejected the option of making several versions of a given work except rarely and for very specific reasons.2 Despite a full-time and unswerving commitment to her life's work and despite her use of assistants, I came to understand why she had completed relatively few finished works.
I saw how working within deliberately reduced options was pivotal to her form of invention and how she viewed black and white as extremes of colour; I understood that as much as mathematical formulae were alien to her practice, observation and experience were its central pivots. I saw how much she had learned from Georges Seurat.3 I began to see how colour really was her subject, with nature and her intuitive memory of experiences being key criteria for taking an idea further or deciding when a given painting was ready to be launched.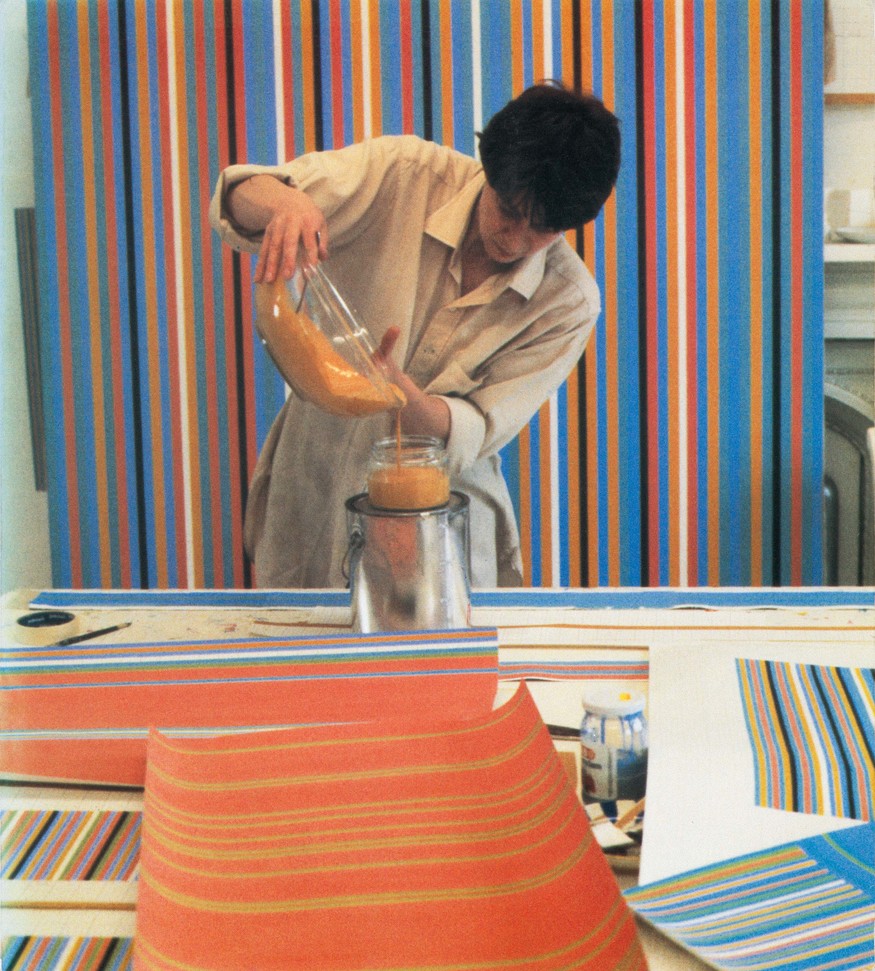 So, what was Riley working on in her studio when I visited in the early 1980s?
In the winter of 1980, on her way to Japan, she spent three weeks in Egypt. Visiting the ancient tombs of Luxor, she was astounded at the consolidated effect of what she called a 'fabric of colour' in the well-preserved frieze paintings. Here was a restricted palette of colours that was fresh and perfectly harmonised, a condensation of light itself. On her return to London, these colours remained insistent – they had to be made. Having not used oil paint for some twenty years, Riley now felt the need to return to the medium so that she could approximate the brilliance of the colours. Still working through the clustered, twisted curves associated with paintings like the Art Gallery of New South Wales's Aurum (1976) at that time,4 instinctively she reverted to using the stripe, the neutrality of its form chosen to serve the brilliance of the new palette.
I recall her studio walls and tables covered with the Egyptian colours in many arrangements. Working studies on graph paper were dwarfed by full sized cartoons. Multiple strips of black, white and recalled colours hung ready to be introduced as part of her critique of studies as they developed. She enjoyed the pleasure of painting alongside others in her studio, but by using assistants her eye was able to remain fresh to judge and adjust each result. Then, as now, Riley liked to work alone in the evenings, and as her assistants work a three-day week, the remaining four days gave her time to survey what had been achieved with the necessary detachment.
Hers was a busy work space; a white, round table by the files that I was working on and two studios, one up a few stairs from street level and another on the floor above. Floors and walls were painted white, with some of her early pointilliste renditions of landscapes directly after Seurat providing colour. It was an active and engaged time for me as a student.
I had kept in touch over the years, but visited Riley again for a particular purpose in April 2004, having been asked to interview her for a British Council publication to accompany a major show that was to tour to the Museum of Contemporary Art, Sydney and City Gallery Wellington. She was in the studio she had renovated in Les Basaacs, France, where she enjoyed extended periods when she could work pretty much alone.
This time my daughter Sarah accompanied me – and I was delighted for her to meet Bridget since I had been pregnant while completing my thesis (and yes, cycling through the back streets of London). After a memorable Easter weekend together in Paris, we journeyed south by train and stayed in an old stable block refurbished as guest quarters at Riley's place for about three days.
Again she worked in her studio during the day and, once more, we talked endlessly, this time more freely about her by now lengthy career and her wider interests. I recall being interested in the intersections between the colours and patterns of her work and Islamic art and architecture, which we both enjoyed; equally, we discussed the poetry of Gerard Manley Hopkins as a further example of how a strict foundation often results in greater freedom. We walked and talked and ate with Robert Kudielka, professor of aesthetics in Berlin and a long-time friend and writer about her work, who was also staying at this time.
By now she was well recognised in Japan and she told us of being presented with the Praemium Imperiale, the equivalent of a Nobel Prize in the visual arts by the Emperor of Japan. Interestingly, the largest percentage of her work has been purchased for public and private collections in Japan.
She was consolidating her thoughts in the studio with four- and five-colour rhomboid forms – both a logical progression of her visual imagination and also hard to imagine without Matisse – which seemed to dance across the planes on which they featured. Over the days a publishable interview took shape and was sent backwards and forwards for clarification and editing after my return.5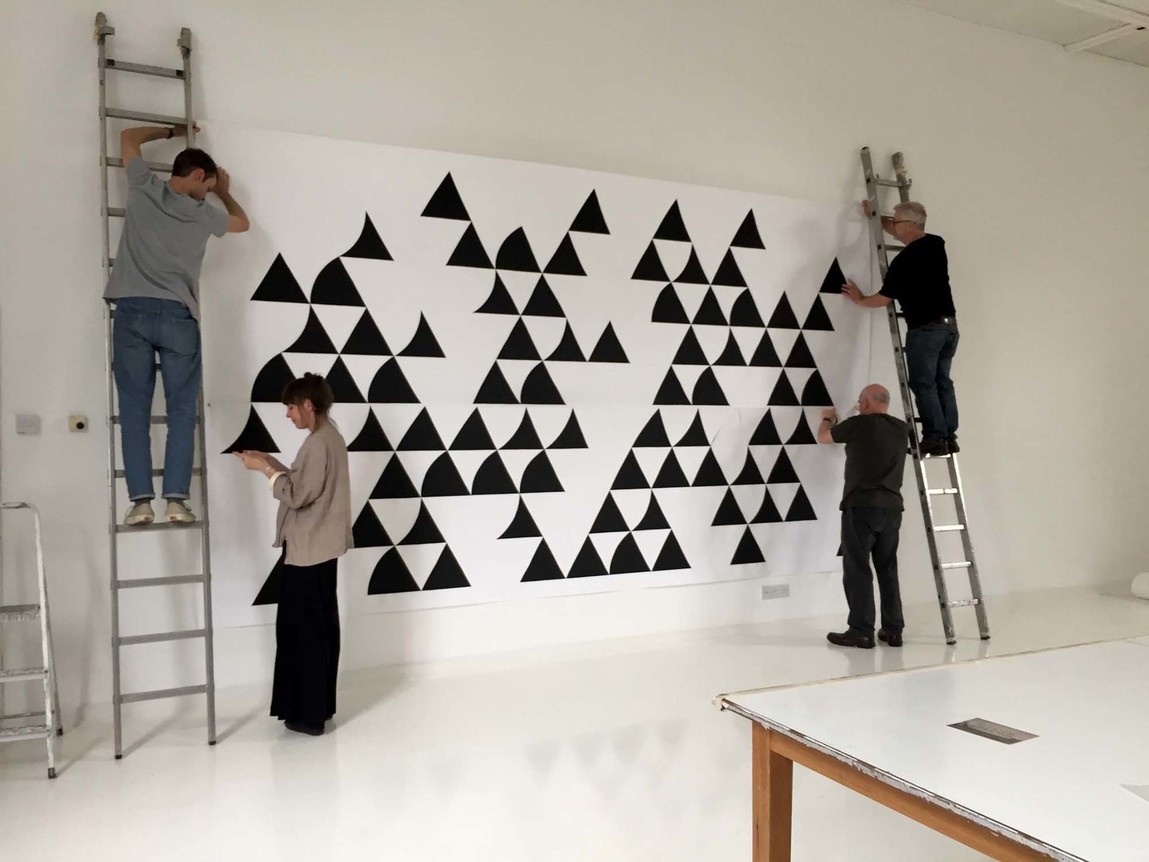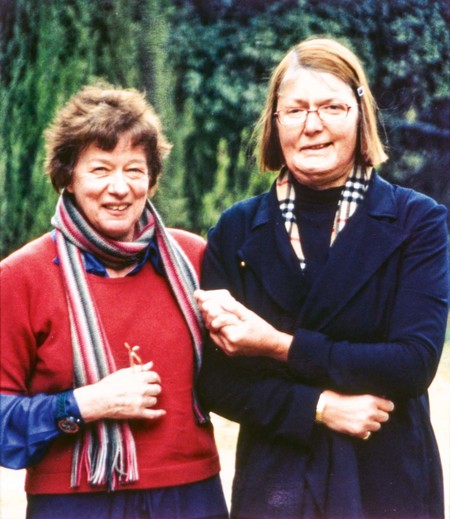 By the time I visited Bridget Riley's studio again in mid-2016, my travel was for an altogether more specific reason: we had decided to commission a work of hers for Christchurch.
I arrived in Europe in time for the opening of a large-scale solo exhibition of her work at the Gemeentemuseum Den Haag in late June. It was such a privilege to see her and her work in the home of Mondrian – an artist who, like Seurat, she's admired for many years. It was especially interesting to note a small number of her works at the end of the collection display of his. Such harmony.
I saw her a few days later at her East London studio, viewing graphics for a glazed internal window, visible from both sides, which she had designed for installation at the exhibition's end at the Gemeentemuseum – and she told me of the lengthy process involved in producing this single pane of glass in a factory. Her work takes many trials and I recalled her telling me years before of how the four screen-prints, Nineteen Greys (1968), took over a year to print.6
But then we discussed possibilities for her forthcoming Christchurch commission. An exciting moment. Only rarely are we involved in the purchase of a work by such a well-established international artist. However, relationships and a sequence of events sometimes work together to ensure this can happen. By reaching above and beyond our usual means, we've managed to target a group of artists whose work we could not have afforded at other times.
The first collections-related prompt to approach Riley came when we bought a wonderful black and white koru painting from the Gordon Walters Estate in 2014. I recalled Walters telling me of how he'd travelled to Sydney specifically to see an exhibition of her work in 1979, meeting and talking with her on this occasion.7
I had become aware from a social visit to Riley earlier in 2014 that, after a long period of working with colour, she had returned to the stark contrasts of black and white. She had also been making a range of wall works, directly painted onto well-prepared spaces to specific instructions. The purchase of our Walters prompted me to think again of her and to propose a work for Christchurch.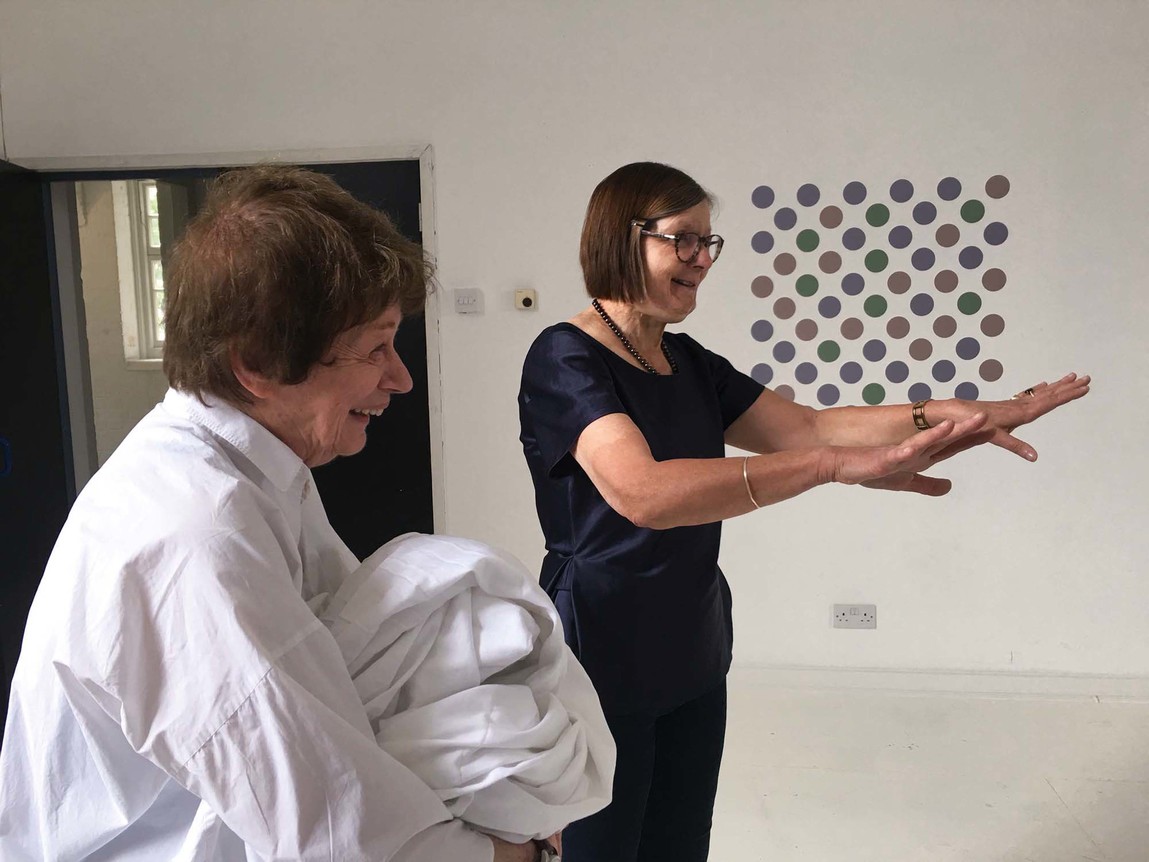 So my most recent visit to Riley's studio was made with others. Some donors – and some of their sons and daughters who lived in London – came with me. We had visited London's National Gallery and I had created a tour of my favourite paintings that reflected what I knew had intrigued her at different times. As well as marvelling at Jan van Eyck's Arnolfini Portrait (1434) I pointed out the artist's 1433 Self Portrait, which Riley had copied as a teenager; I explained how she would have noted the remarkable blue of the sky in Titian's Bacchus and Ariadne (1520–23); and finished with Seurat's extraordinary Bathers at Asnières (1884), her all-time favourite in that collection.
Our studio visit itself was magic and Riley was utterly generous with her time and thoughts. Her assistants installed three full-scale cartoons and she discussed how she progressed her ideas and worked through versions. We looked at other works in her storage area and she explained how often she re-visits and pushes further colours she may have used before. The colours of her 1970 painting Vapour, a case in point, were re-presented in a magnificent wall-scaled rectangle of circles of grey, mushroom and a muted green, also painted directly on the wall in a smaller square, to indicate the difference this made.
After a studio lunch, we leapt into two cars and headed to Holland Park. This was unplanned, but what luck – we were going again to where it all began for me thirty-five years ago.
So much was familiar, the white walls and floors and the table I had sat at in 1981. We were able to see the early Seurat-related studies, the basement where her archive is now, two levels of studio and, as if to add to an already perfect day, we saw some of the works of art she owned. After a day of taking about her own work, to hear Bridget Riley analyse her Matisse drawings in terms of her 'friends, the straight line and the circle', was an absolute highlight. The simplicity and joy of it all.
So it seems fortuitous that Matisse's brilliant Jazz portfolio (1947) is coming to Christchurch Art Gallery Te Puna o Waiwhetū and will be here when our new wall painting by Bridget Riley is revealed. Won't it be wonderful to see groups of children in our gallery grasping how very difficult it is to copy Riley's or Matisse's work or that of Gordon Walters? The easier it appears, the harder it is to do.