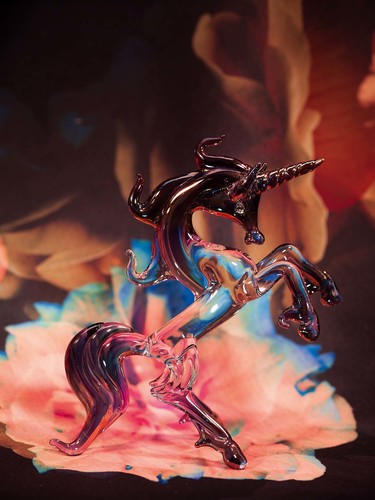 Beyond The Fields We Know
In the canons of received taste, the unicorn figurine doesn't rank terribly highly beyond kitsch. Sitting in your hand, it's cutesy, twee, trivial and quaint (though a piece of master-worked Venetian glass from Murano is a pricey and collectable item).
On the other hand, kitsch is powered by sentimentality, and sentimentality is a valid human emotional response to the existential condition, a degree to love, hope and compassion. The snobbery and elitism of taste is an artificial construct designed to separate the sheep from the goats, a panjandrum to demarcate people into social boxes of U and Not-U.
Photographer Fiona Pardington has a knack for finding and returning the mana and spirit of the forgotten and unconsidered, and under her lens the unicorn figurine transforms back into the majestic magical guardian of medieval legends, a symbol of the wonder lurking just beyond our mundane, illuminated from within and transformed by light.
We are in the presence of immanence and transcendence. It hides in the heart of the humble and everyday. Beyond the fields we know, lies Avalon.