B.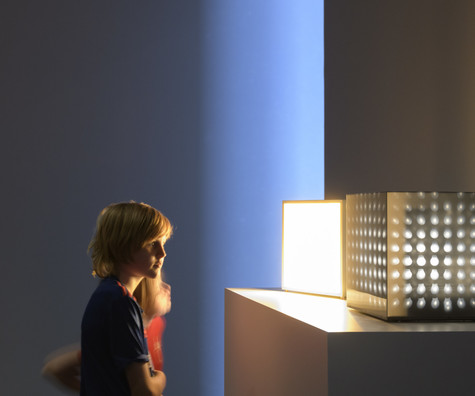 Six reasons to visit Christchurch Art Gallery this summer
Media Release
Summertime at Christchurch Art GalleryTe Puna o Waiwhetū means experiencing everything the Gallery has to offer – amazing art, exciting events, inspired shopping and even exquisite food. Come and explore the city's cultural treasures and soak up the bursting colour, creativity and incredible talent of some of New Zealand's best-known artists.
1. Bold, bright, brilliant!
Bursting with energy and a feel-good factor, Wheriko – Brilliant! is an exhibition for visitors of all ages, so come and experience its brilliance. This engaging contemporary art experience for all ages, full of sculptures, paintings, videos and more. Combining light-based works from the Gallery's collection with several special loans, Wheriko – Brilliant! explores the many roles light can play in the making and experiencing of art. So prepare to be dazzled as acclaimed artists from around Aotearoa New Zealand (and a couple from further afield) play with shadows, throw glittering shards of colour and transform the familiar into the extraordinary. Featuring the work of well-known artists like Reuben Paterson and Hannah Beehre, it also presents new work by artists Anila Quayyum Agha and Daniel von Sturmer. On show until 16 February 2020. Free entry.
2. Music meets art
From his early frenetic interior views where crazed rock singers scream for attention, to his famous paintings of elegant bird-humans staring silently into the distance, Bill Hammond: Playing the Drums provides a welcome opportunity to view works by one of Aotearoa New Zealand's favourite painters. Hammond is also a musician – a drummer – and musical references are littered throughout the drawings, prints and paintings in the exhibition. Highlights include the massive Cave Painting 4, the first time this major painting has been exhibited in Christchurch, as well as old favourites like The Fall of Icarus, which hasn't been on display since before the earthquakes, and rarely seen paintings from the artist's own collection. On show until 19 January 2020. Free entry.
3. Events for everyone
With a great range of talks, films, events and late-night guided tours this summer, there's always something new to see and do at the Gallery. Special events and activities for families and kids means fun and learning for all ages. Click here for the latest information about what's on.
4. Christmas craft workshops
Bring the whole family to our Kid's Christmas Craft Drop-in sessions and unleash your inner child while making some fun Christmas decorations together. Come make a mess on us, while working with a range of materials. Learn some new skills to help you create dazzling decorations and memorable gifts to brighten up your festive season. Click here for more details.
5. Carefully curated treasures
The Gallery's Design Store is well stocked with unique gift options certain to impress this festive season. From gorgeous homewares to a great range of publications – you'll find plenty of treasures amongst the ever-changing range of carefully curated items inspired by the Gallery's collection and exhibitions. Visit us in-store, on Instagram – @chchartgallerystore – or online to see what might look perfect under your Christmas tree.
6. Sumptuous summertime fare at Universo
Take some time out to sample some of the gorgeously gourmet offerings available at Universo, an elegant and sophisticated café, bar and restaurant located within the Gallery. Soak up the summer sunshine while enjoying a glass of something crisp and refreshing in Universo's al fresco dining area.