B.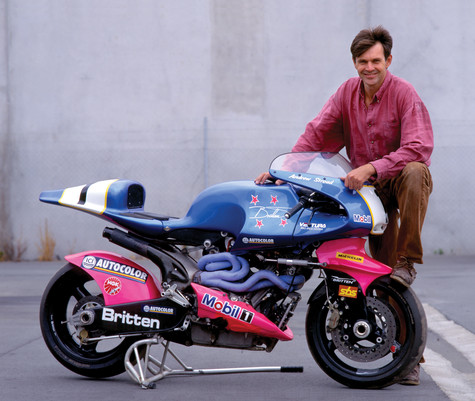 World-famous Britten superbike comes to the Gallery
Exhibition
The record-setting superbike that stunned the world is coming to the Gallery as part of a new exhibition by acclaimed artist Billy Apple, with a special sneak-peek event happening this Thursday 14 July.
John Britten's V1000 was called the most widely admired motorcycle in the world, and Apple's installation, GREAT BRITTEN!, honours its finest triumph — winning the inaugural BEARS (British, European and American Racing Series) world championship of 1995.
'Officially, the exhibition opens to the public this Saturday, but we're kick-starting things with a roar,' says curator Felicity Milburn.
'On Thursday 14 July, from 10am, championship motorcyclist "the Maestro" Andrew Stroud will ride the bike — one of only 10 in the world — around the block and across the Gallery's forecourt, performing a celebratory burn-out to mark its arrival.
'Cantabrians have a special connection with John Britten and his remarkable achievements, and this exhibition is a rare opportunity for people to get up close and personal with the world's most iconic racing motorcycle, designed and hand-manufactured in Christchurch by Britten and his highly skilled team', adds Milburn.
In GREAT BRITTEN!, Apple draws together several carefully calibrated elements, amplified to reflect the intensity and excitement of the BEARS campaign. On an apple-green wall with chequered flag baseline, the racetracks Stroud rode and won on are outlined precisely in black vinyl.
Angled in front, on a long runway plinth, is the very bike that blitzed the BEARS. At each end of the runway, two panels, crisply painted with Apple's artwork by signwriter Bob Brookland, the only person Britten trusted to paint the bodywork on all his bikes, echo the V1000's dazzling hot pink and electric blue livery.
The arrangement of the text and the dimensions of the circuit graphics, text panels and plinth that houses the championship trophy were meticulously adjusted by Apple to conform to the principles of the Golden Section, a ratio found in nature believed to offer the most aesthetically pleasing proportions. This understanding of how small changes impact the whole, how everything depends on everything else, is a common denominator between Britten and Apple.