B.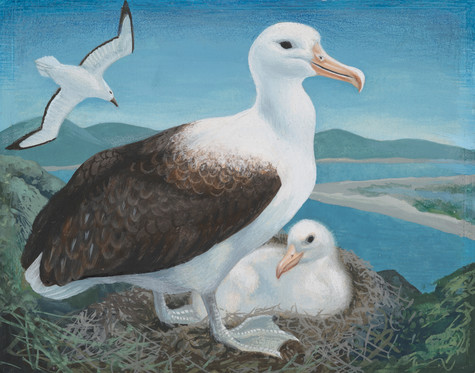 Colouring in: Toroa / Northern Royal Albatross
Collection
Did you know that the Toroa (also called the Northern Royal Albatross) is the world's largest seabird? Where do you think they live? Take a look this live web feed of a chick for a clue...
You can listen to a poem about Toroa being read by Nathan, one of our curators, on the Gallery's page of hand-washing poems here.
What do you think the weather is doing in the painting? Is it stormy, sunny, windy or calm? How can you tell? You can change the weather on your picture by using different colours.
Look at the flying bird. Its wings are so big! Where could it be going?
Can you see the beautiful feathers on the birds? How will you colour the feathers on your birds? Download the colouring sheet here. When you're finished, you could take a photo of your work and ask an adult to tag us on social media (#chchartgallery).