B.
Swings by Ethel Spowers
Collection
This article first appeared in The Press on 12 January 2018 as 'A champion of the pioneering linocut'.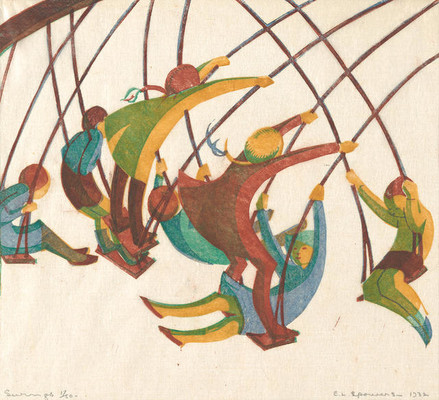 Melbourne-born Ethel Spowers was one of several Australasian artists who studied in London in the late 1920s under pioneering linocut printmaker Claude Flight, whose migratory life at that time was described by Adelaide-born Dorrit Black: 'During the summer he lives in a cave in France, a very attractive cave, apparently, but still a cave; and in the winter he comes out of his cave to teach lino-cutting to students of the Grosvenor School, and, perhaps, elsewhere.'
Claude Flight taught at the Grosvenor School of Modern Art for four years from 1926, and sparked a craze for the medium, assisted by Lino-Cuts, his modernist printmaking manifesto published in 1927. Ethel Spowers' introduction to Flight came through this book in 1928, after her friend Eveline Syme found a copy in a Melbourne bookshop. Both were daughters of wealthy Melbourne newspaper publishers, in a position to travel, and also greatly inspired – they left shortly afterwards to study with him in London.
Flight's outlook was forward-thinking, democratic and contagious; his intention for the hitherto humble linocut print that it should be affordable and a 'new form of expression to the average man to whom the word "Art" has grown to mean pictures, things apart from the life he is leading, useless things, the property of the rich, things which his newspapers tell him attain colossal prices at auction sales!' His enthusiasm for the medium was matched by the bold strength of his cubist- and futurist-inspired prints.
Back in Australia from 1929, Ethel Spowers championed the linocut by showing examples of Flight's work in Melbourne. In 1930 she held an exhibition of Australian linocut artists, some of whom had been his students. Spowers also showed her own work in London in 1930, in an exhibition of British linocuts at the Redfern Gallery, owned by Christchurch-born art dealer Rex Nan Kivell. Attending the Grosvenor School again in 1931, she became a regular exhibitor over the next few years in Sydney, Melbourne and London. Swings was shown in all three centres in 1932.
Printed on fine, Japanese mulberry paper in four colours, and portraying a group of airborne children in late afternoon light, it is a classic example of the work for which Spowers became well-known, with groups of children formed into dynamic, rhythmic patterns. These works also connect to her longstanding charitable involvement with the Melbourne Children's Hospital, an interest she maintained after putting aside her art due to ill-health in the late 1930s.
While Ethel Spowers description as a 'well-known Melbourne social worker' in her obituary in 1947 seems an oxymoron, she was also remembered as 'known in art circles'. This is one of four treasured prints by Spowers given to the city in 1953 by Rex Nan Kivell (ironically, examples of two of these have achieved colossal, record prices in auction sales in recent years). Swings is currently showing in the exhibition Yellow Moon.