B.
Sang by Tony Oursler
Collection
This article first appeared in The Press as 'The many faces of Tony Oursler' on 14 July 2015.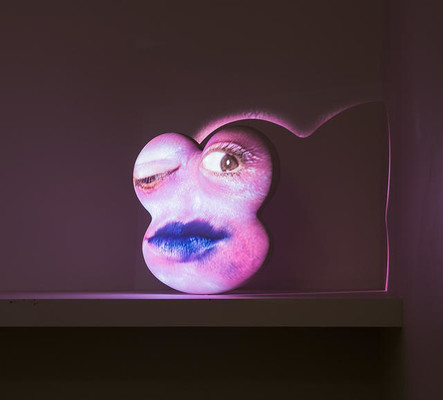 When the Gallery launched its tenth anniversary programme 'Populate!' in May 2013, quake-dazed Christchurch was alternately surprised, disturbed and delighted by an invasion of strange faces, from Ronnie van Hout's apocalyptic Coming' Down to Peter Stichbury's paranoia-inducing NDE. By far the weirdest however, were the anarchic, morphing visages summoned up by US artist Tony Oursler, which head-banged, writhed and twitched their way into the hearts of many of our visitors.
Credited with liberating video art from the 'tyranny' of the screen, Oursler is regarded as one of the pioneers of the art form. Since the 1970s, he has extended the parameters of his practice to such an extent that narrow media distinctions begin to seem inadequate, and his work shifts fluidly between video, sculpture, installation and performance. In recent years, Oursler has brought his tragi-comic imagery to life on walls, trees, smoke and even people, but it is perhaps in video/sculpture amalgamations like Sang, where he projects video directly onto gesso-coated fibreglass forms, that he most successfully imbues technology with a compellingly human frailty.
Consisting of little more than a bulbous head, grotesquely inked lips and two rolling, goggling chameleon eyes, Sang is tailor-made for disconcerting first encounters. And, as is so often the case in Oursler's works, that unforgettable face is only half the story: her plaintive narrative is disjointed and incoherent, pieced together from a series of evocative but baffling phrases – 'Fall tension tension, wonder bright burn want want want want weave wonder rush', 'Image seeking seeking seeking seeking seeking seeking seeking' – and insistent appeals for help and sympathy. Less a conversation than a garbled stream of consciousness; they are the ramblings of a distraught and discombobulated alter ego, so vulnerable that, as you listen, you can start to feel awkwardly voyeuristic. As monstrous as she undoubtedly is, she is also, undeniably, human. Perhaps it's that small flicker of recognition, alongside our revulsion, that makes her so mesmerising.