B.
The Drawing Collection
Collection
Christchurch Art Gallery Te Puna o Waiwhetū's Drawing Collection significantly expanded in the late 1970s, when a conscious effort was made to purchase works on paper from the varied disciplines of drawing. Prior to this, drawings came into the Gallery Collection via gifts or bequests, such as three illustrations by British/French artist George Du Maurier, gifted in 1934 by the Trustees of the artist.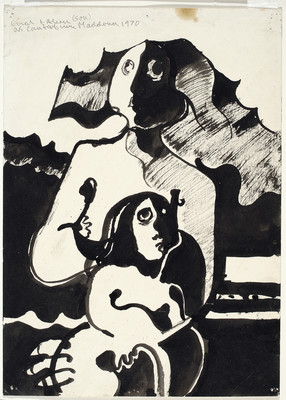 Du Maurier (Grandfather of novelist Daphne Du Maurier), was born in Paris in 1834 and studied art in France and Germany before moving to London where he established himself as an illustrator and novelist. In 1864 he joined the staff of Punch, where he became known as a gentle satirist of middle and upper-class society. Punch, a weekly publication of humour, quickly developed a reputation as a "defender of the oppressed and a radical scourge of all authority". Early targets of the magazine included the monarchy, leading politicians of the day and the Pre-Raphaelite aesthetic movement. Many of Du Maurier's illustrations of socio- political satire that poked fun at aristocratic pretentiousness, as portrayed in A Timely Warning, were executed in pen and ink and revealed much about the artist's observations of Victorian issues of the time.
The earliest drawings depicting Canterbury in the Collection are by the British artists William Holmes (1825 - 1885) and Edmund Norman (1820 - 1875). Holmes' pencil and ink images of Akaroa and Lyttelton were drawn in 1852 and were purchased in 1987 with assistance from the Olive Stirrat Bequest. Holmes, a schoolmaster, arrived in Lyttelton in 1851 and quickly produced many sketches of the region, some of which were issued as single line engravings printed in London. Norman, originally a surveyor, was a skilled draughtsman who later settled in Canterbury. He taught art and several of his drawings of the region were engraved or lithographed and illustrated publications such as New Zealand or Zealandia - The Britain of the South.
A number of Christchurch artists and Trusts began to gift work in support of the Gallery in the 1970s. A significant collection of Petrus van der Velden drawings, primarily from sketch books depicting portraits and atmospheric studies of Canterbury and Holland, were gifted in 1969 by the family of Archibald Nicoll. A large series of pen and ink, wash and pencil illustrations for the Listener by Russell Clark were presented in 1975 by Rosalie Archer, the artist's widow. William Sutton regularly gifted works by his own hand and other artists to the Gallery. His first gift, in 1978, comprised a collection of preparatory drawings made for his now-destroyed painting Homage to Frances Hodgkins. One of these drawings, Compositional Study for Homage to Frances Hodgkins, depicts a study drawn from life of the artist Olivia Spencer Bower.
Drawings such as this offer an 'inside' perspective of the creative process, for they record the way in which ideas are conceived and developed. Philip Trusttum's Millennium Tapestry Drawing (2000) is a 'finished' work in felt pen and pencil, yet it also serves as a notational device for his larger design the Millennium Tapestry installed in the Christchurch Town Hall. Drawings initiate, refine and extend the artist's repertoire of ideas. However, a dislocation of drawing from art historical canons rendered the discipline as subservient to the 'nobler' pursuits of painting and sculpture. Michael Dell's Spoerri's Table (1993), though, upholds the tradition of drawing. A bird's eye view of a table top with everyday objects such as cutlery, plates, ashtrays and cigarettes are rendered in charcoal with great control.
Dell has taken his inspiration from the Swiss artist Daniel Spoerri (b. 1930) who was a member of the Nouveau Realisme movement founded in 1960. This group of artists rejected the free abstraction of the period in order to make use of existing objects, particularly found material from the urban environment. Spoerri's Table won the inaugural 1993 Cranleigh Barton Drawing Award, a biennial competition jointly presented by the Gallery and the Canterbury Museum and made possible through the bequest of Cranleigh Harper Barton (1890 - 1975), a well known Canterbury painter and Sumner identity. In 2000 the artist Alan Pearson gifted a significant collection of drawings to the Gallery, including Canterbury Madonna, an ink drawing on paper.
A panorama of styles from minimalism to neo expressionism characterise drawing in the last decades of the 20th century and drawing has since been relocated within mixed media practices. New Zealand artists such as Pauline Rhodes and Andrew Drummond have tested the limits of the medium through a transformative use of materials. Flux (1995), Rhodes' ink drawing on rusted paper for instance, conveys a process whereby paper has been stained over time with rusted metal. Rhodes' has added a white ink wash, augmenting an evolving sense of movement suggested by the 'contamination' of the paper. Imperfect Atmosphere No. 9 (1995) a 'drawing' that combines schlagmetal and a chemical reaction on paper by sculptor Andrew Drummond, is an extension of a larger sculptural vision. For Beating and Breathing (1995), a major commission for Christchurch Art Gallery Te Puna o Waiwhetū, provocatively alludes to the close integration of technology and the body. Imperfect Atmospheres, part of this installation, are 'breaths' - experiments that record a moment of beauty and perfection isolated in their own environment. The gallery's extensive collection of graphic works, representing a myriad of stylistic developments, are testimony to the fact that drawings have always been, and remain the life force of the artist.