B.
Untitled (Hop Kilns, Motueka) by Rita Angus
Collection
This article first appeared in The Press on 28 December 2005

"Malt is the soul of beer and yeast gives it life but the kiss of the hop is the vitality of that life." Tom Inglis
Nelson has long held a strong reputation for growing excellent hops with a substantial industry based on the crop being developed in the region in the late 19th century. Motueka in particular has an extremely suitable climate for growing hops and the majority of New Zealand's hop production occurs within close proximity of the town. By the 1940s commercial production of hops had fully developed into a successful horticultural enterprise which Rita Angus has in part captured in her 1941 watercolour Untitled (Hop Kilns, Motueka).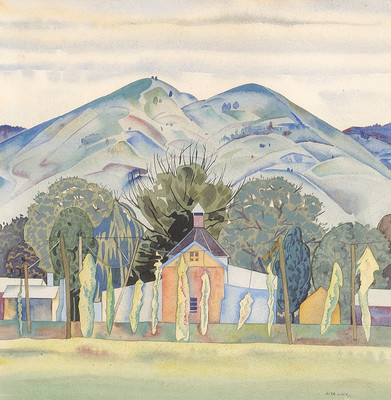 Tobacco was also successfully grown in the region and both the hops and tobacco industries attracted large numbers of seasonal workers for many years. Among these itinerant visitors seeking employment in the area during the 1930s and 1940s were a number of young artists. Toss Woollaston and Colin McCahon settled in the region for extended periods while others including Doris Lusk and Rita Angus had shorter stays. Angus herself visited the region on several occasions during this period. On her first visit, in 1939, she painted at Riwaka. She returned again in January 1941 when she worked picking tobacco until May at Herbert Helm's farm at Pangatotara a short distance from Motueka. It was on this visit that Untitled (Hop Kilns, Motueka) was completed.
Angus' reason for visiting the region in 1941 was the result of her decision to avoid work that directly assisted the war effort. She had become a member of the New Zealand Peace Pledge Union in 1939 reflecting her pacifist convictions as the threat of war drew closer. Hops and tobacco, alongside other horticultural activities, were seen as non essential war work and therefore viewed as an acceptable form of occupation for many pacifists at the time. Angus worked picking tobacco alongside two other Canterbury pacifists Harry Courtney Archer and the artist Chrystabel Aitken.
While Angus found the work strenuous she was still able to appreciate the unique landscape in which she found herself working. In a letter to her friend Betty Curnow she states "I am attaining a calm philosophy ... the valley is fertile and rich in colour, the Motueka river runs alongside the baches ... the Helms ... have sufficient cultural background to make them the centre of great disproval...". Angus's employer Herbert Helm recalled Angus as a gentle, humorous and very likeable woman with whom he had immensely interesting discussions on human nature.
Untitled (Hop Kilns, Motueka) attests to the fact that Angus was able to produce paintings alongside her work as a horticultural labourer at this time. As with much of Angus's painting of the period she has focused on unique features in landscapes that define a particular region. In the foreground a hop garden is shown with the distinctive looking hop plants trained up vertical strings suspended by wires and poles. A hop kiln is seen in the centre of the composition with it's distinctive 'bell' on the roof which allows moisture to escape while the hops are gently heated from below.
The work began as a sketch, the artist outlining shapes in pencil before applying watercolours. Angus has simplified forms, such as the buildings and plants, throughout the composition and while wet washes of colour have been used she has been careful not to let these bleed too excessively into each other. In this way she creates a very sharply focused view of the landscape seen in the way the hills stand out crisply against the sky or the farm buildings from the foliage created by a backdrop curtain of trees. Angus was undoubtedly one of New Zealand's most talented watercolourists of her generation, successfully employing her delicate touch with landscapes as well as flower studies, still-lifes and portraits.
Angus was born in Hastings in 1908 and studied in Christchurch at the Canterbury College School of Art between 1927 and 1933. She was an important figure in Christchurch art circles throughout the 1930s and 1940s and exhibited regularly with The Group and the Canterbury Society of Arts. In 1943 with the help of her father she purchased a cottage on Aranoni Track, Clifton where she remained until 1954 when she settled in Wellington. Angus was to remain in Wellington for the rest of her career but continued to show her paintings in Christchurch with the annual Group shows until her death in 1970.
Untitled (Hop Kilns, Motueka) was bequeathed to the gallery in 2002 by Harry Courtney Archer who had worked picking tobacco alongside Angus at the time this painting was completed. Indeed the Christchurch Art Gallery Te Puna o Waiwhetū was extremely fortunate between 2000 and 2003 when ten watercolours by Rita Angus were bequeathed to its permanent collection. Examples of Angus's watercolours were received from the estates of Archer, Bill Sutton and Lawrence Baigent / Robert Erwin. Collectively the watercolours from these bequests cover a 30 year period of Angus's œuvre and have greatly enhanced the Gallery's collection of her work.
Peter Vangioni