B.
The best kind of re-gifting
Behind the scenes
It's Valentine's Day, when tradition dictates that husbands all over the country detour to the service station on the way home for that last-minute box of chocolates*. If, however, you're considering pushing the boat out this year, you might consider the example of William Raworth.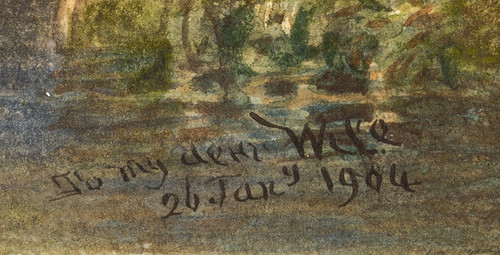 Born in Nottingham, England, in 1821, Raworth arrived at Lyttelton on the Sir George Seymour on 17 December 1850 with his wife Elizabeth. He came as a surveyor, but was committed to an artistic career. The nephew (and also son-in law) of the British artist John Linnell, his stature as a watercolourist grew in the 1850s and he was also active in Lyttelton as a drawing master. By the 1860s, he had established himself as a professional artist specialising in New Zealand landscapes. His work was included in Canterbury's first recorded public art exhibition at the newly constructed (but not yet officially opened) Canterbury Museum in 1870. In September 1871, a large solo exhibition of 90 watercolour paintings of New Zealand scenery by Raworth was shown at the Supper Room in the old Town Hall, High Street. After returning to England in the early 1870s, Raworth settled in Australia, returning to New Zealand occasionally. He died on 11 August 1904, at Bishopscourt, Randwick, New South Wales and the Sydney Morning Herald of 12 August 1904 reported that "his brush was laid aside a day only before his death".
Amongst his other talents, Raworth was also, clearly, a romantic to the end - dedicating this charming scene of the River Avon to his wife in January 1904. Fittingly, this work has since been been presented at least twice more, about 35 years ago to Mr Ian Andrews of Sydney by his elderly neighbour and, a few weeks ago, to Christchurch Art Gallery by Mr Andrews. His generous gift included two other Raworth watercolours, and all three will allow us to tell in greater detail the story of early Canterbury painting.
You can see more of the Raworth works from our collection here, with two other new watercolours to be added soon.
* And if you think that's cynical, bear in mind that research has shown that the day people are most likely to be dumped is the Tuesday before Valentines Day - presumably so the dumper has time to organise a new romance for the big day.