B.
Tracking Louise Henderson
Behind the scenes
I recently wrote about Louise Henderson's painting Addington Workshops (1930) for the Press, and wanted to locate the place in which she stood to make the sketch for the work. It's a complex image and I wanted to understand more about its internal space as well as its history, but the workshops were demolished twenty years ago.
The Addington Workshops site was enormous. It covered an area of 41 acres, in a huge triangle of land situated at the junction between the south and north railway lines. It was one of the largest employers in the city, as well as the largest site of heavy industry in the South Island. Locomotives and freight and passenger cars were built there as well as steel girders for bridges and munitions during World War II. At the time that Louise Henderson made her painting, the Addington Workshops' vast complex of sheds included a boiler shop, machine and steel wagon shops, wood wagon shop, a woodmill, tarpaulin shop, administrative buildings and a social hall.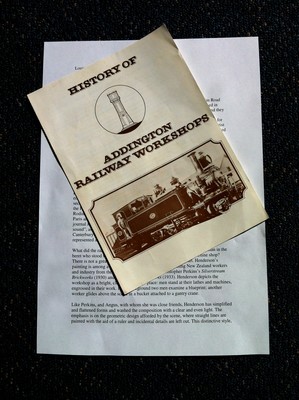 My attention was initially caught by the shape of the windows in the backround of Henderson's composition: elegant slim rectangular forms with multiple small panes. I was also struck by the T-shaped forms of the columns in the middle ground: a kind of modernist Ionic capital and shaft design. In researching the history of the Workshops, I came across this image with similar columns and windows, taken 30 years later:
Could the background of Henderson's painting be the electric loco shed? I then came across this plan from the Enzed Transport blog, traced by transport researcher Patrick Dunford from a hand-drawn diagram of the Addington Workshops site. It positions the electric loco shed at the south end of the site, part of a major building complex divided into long narrow sections. The plan appears to resonate with Henderson's delineation of the complex spaces of her scene.
With Dunford's plan in hand, I went next to a photograph of the Addington Workshops from 1947, taken 17 years after Henderson's image was painted. The photograph is a detail of an aerial shot of the city taken by White's Aviation which appears on the Transpress blog. It shows the electric loco shed in the bottom right quadrant of the picture, alongside three other sheds of similar dimensions.
I think, therefore, that Henderson was standing in or near the machine shop, which is the first building in the complex, looking through a series of workshops towards the electric loco shed. The workshops were gradually demolished after they finally closed in 1990: all that remains is the historic water tower (1883), visible in the lower centre of the image, which still stands in the carpark at Tower Junction.