B.
Paradoxical Undressing
Behind the scenes
The Word Christchurch Writers and Readers Festival 2014 was held over the weekend and featured many fascinating events, and Christchurch Art Gallery was proud to be an associated partner for some of these.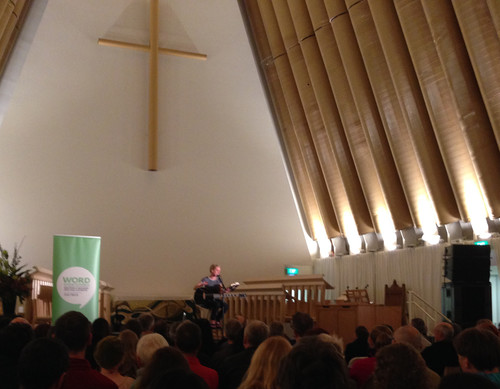 Of particular interest were Remembering Anzac, a discussion between photographer Laurence Aberhart, historian Jock Phillips, and our very own Jenny Harper, focused on New Zealand's war memorials, and Lyrical Writing, an examination of the influence of literature on lyrics and music by Aldous Harding and Kristin Hersh.
Although unable to attend these, I was fortunate enough to make it to Hersh's mesmerising Words and Music, a performance in the Transitional Cathedral where she played tracks from her solo career as well as her years leading Throwing Muses, while reading excerpts from her recent memoir Paradoxical Undressing. The forceful power of this artist was quite exceptional, in her witty, self-deprecating memories, her crisp, accomplished guitar playing, and of course that intense, inimitable wail.