B.
Petrol Heads
Behind the scenes
On a recent trip to Wellington to attend the excellent Van der Velden symposium at Te Papa I saw the Britten motorcycle on display and was instantly reminded of one exhibition that was in the pipeline here at Christchurch Art Gallery prior to the big shakes, an exhibition that involved Billy Apple and the Britten motorcycle titled Great Britten!
I don't know if Billy Apple ever met John Britten but I'm sure they would have got on well, both being fervent petrol heads. I am looking forward to seeing Billy's exhibition one day when we have re-opened to the public. Billy's plans involve combining images drawn from a number of the racetracks that the Britten raced on with one of the Britten motorcycles.
I recall visiting the Britten workshop when it was located by the railway line on Lowe Street in Addington and being amazed as the bike they were then working on had been completely stripped down and layed out on the floor, including the engine. I was completely blown away at seeing just how many parts went into that machine and the fact that John and his team could piece them all back together into one of the most awesome backyard projects ever.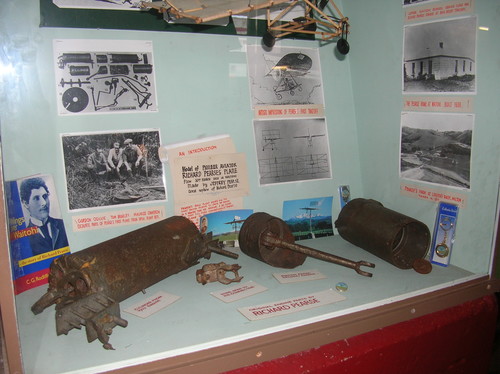 Another back yard project that appeals to me greatly was Richard Pearse's attempts to fly in his heavier than air machine back in 1903. The remains of one of his home built engines (including the cylinder's adapted from cast iron drain pipes) are on display at the Pleasant Point Railway and Historical Society. If you are ever visiting Pleasant Point in South Canterbury make sure you head along to the museum. There's certainly a nice connection between Pearce and Britten, both dreamers and achievers.
Here's the beautiful sound of the Britten, play it loud