B.
The Barrett Bequest - a staggering gift
Behind the scenes
At a staggering $1.8 million, the Barrett Bequest is the biggest financial gift we've received since the Gallery opened in 2003. And we had no idea it was coming...
In January 2010 I was at the preview of Ron Mueck at the National Gallery of Victoria in Melbourne with Justin Paton. Blair Jackson rang from the foyer of Christchurch Art Gallery, where the announcement of Norman Barrett's bequest had just been made by his lawyer and executor of his will, Brian Kinley. I'm usually very careful to turn my cellphone off when attending previews, but I'm very pleased that I forgot in Melbourne.
Blair remembered Norman from his days at what was then the CSA, but I'd only met him a couple of times. I do, however, recall his pleasure at our Rita Angus opening in March 2009. Norman wanted us to buy significant works by artists with significance to Canterbury and Christchurch made from 1940 to 1980. These artists were his friends; he'd enjoyed their company and gone to their openings.
I recall a real sense of elation, almost light-headedness, and excitement at the possibilities for growing our collection with this remarkable gift. This is an art museum and building our collection and continuing its interpretation by display and publication is at the heart of what we do. This gift will keep on giving—so far, we've bought works by Rita Angus, Leo Bensemann, Russell Clark, Tony Fomison and Douglas MacDiarmid and we have another wonderful treasure in the wings.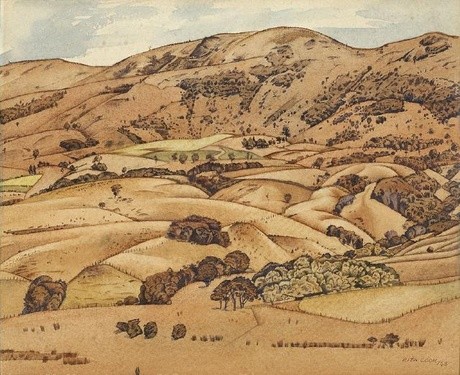 [NB This piece was first written in 2011, and the treasure in the wings that Jenny refers to is Colin McCahons There is only one direction.]