B.
Movie Palace Meets Art
Behind the scenes
The curtain has just come down on the films we've been showing at Alice Cinematheque – only temporarily I'm pleased to say, until next month when our next series of films start.
It's a perfect venue for our films and our audiences have enjoyed every moment of it.
If you haven't been before, the first thing you'll notice on entering is the carpet. It's an extravagant blue and orange and bespeaks the elegance of the Movie Palace era with its Egyptian deco ornamentation. The theatre is small, intimate and there are no long lines, rowdy patrons, no seat-kickers, no dynamite blasts of lighted phones while people text and tweet in the dark, and best of all no advertisements.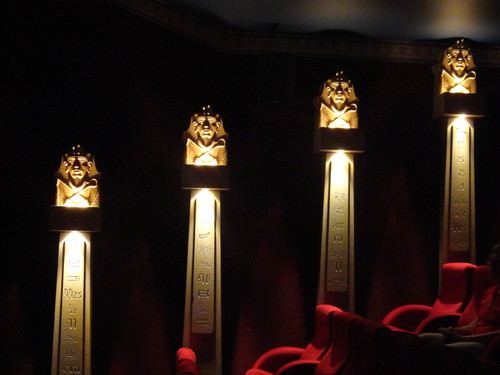 You hear the swish of the curtain as you sink into the softness of your chair, lean back and become part of a group of people who are connected, captivated, engaged. Perfect!
What's more, after the film you can get out some dvds to take home and go and have a coffee at C1.
Look out for films about Francis Bacon, Anish Kapoor and Chuck Close coming soon and become part of the experience.