B.
This way art (if you can stand the hike)
Behind the scenes
Robert Smithson's Spiral jetty might be one of the most perverse works of public art ever made.
If the definition of public art is that it lives beyond the bounds of the museum, then the Jetty is about as public as you can get, sited on the edge of the Great Salt Lake in the Utah desert, a very long way from the west and east coast galleries where Smithson's art is shown and his reputation maintained. Yet that same desert remoteness means the Jetty is extremely difficult to get to. Though world-famous in photographic form, very few people have seen it.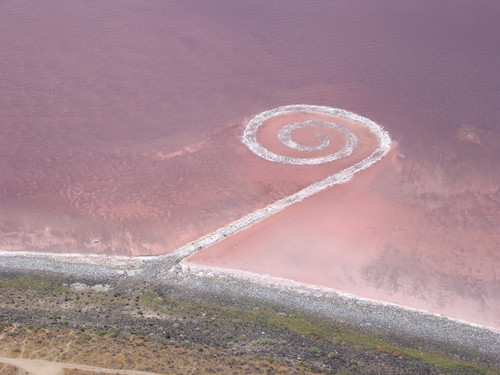 On the website of Dia Art Foundation, there's an enjoyably long and involved set of driving directions, which itemises the number of cattle stops you'll cross, the iron-pipe gate you'll pass, the abandoned oil drilling site further on, the two-track trail where you might as well leave your 4WD behind and walk, until finally (step 13 in the list) you reach your destination. The lake's levels vary, so it's worth taking note in advance of the disclaimer-like 'may' in the last couple of sentences: 'Drive or walk 6/10th of a mile west around Rozel Point and look toward the Lake. Spiral Jetty may be in sight.' Even so, I want to go.
In the past, New Zealand commentators often lamented this country's distance from the so-called centres of international art centres and the masterpieces to be found there. Here in the temporary offices of Christchurch Art Gallery, however, we're feeling the distance in other ways. Our entire collection is only metres away from us, stored in our ground-floor galleries. Yet in terms of ready public accessibility it might as well be siloed in the Utah desert. (Okay okay, there's a website, but I'm talking about in-the-flesh encounters). As we have informed you a boringly large number of times by now, it will remain in those galleries until the buildings next door are demolished and repairs are made to our own. Tick, tock...
Which is why Matt Akehurst's sculpture You are here feels like an especially sharp addition to the Gallery's expanding Outer Spaces programme. Planted right in front of the closed-off gallery, Matt's sign (based on the 'fingerpost' signs that the Automobile Association plants in lookout spots like Cape Reinga) tells the exact distance and direction to a host of famous and very far-off artworks. Picasso's Guernica is in there, so's Duchamp's Fountain in three incarnations, and also works by Warhol, Hirst, Matisse and more. But none of Akehurst's signs semaphore the dilemmas of distance as clearly as the one pointing to Spiral jetty.
To get there, start by heading out of Christchurch roughly in the direction of Burwood. Keep on in that direction. Only 12,000 or so kilometres to go…