B.
Boom time for Akaroa
Behind the scenes
This early view of the seaside town of Akaroa is a world away from the heaving masses of tourists that are dominating the town this summer.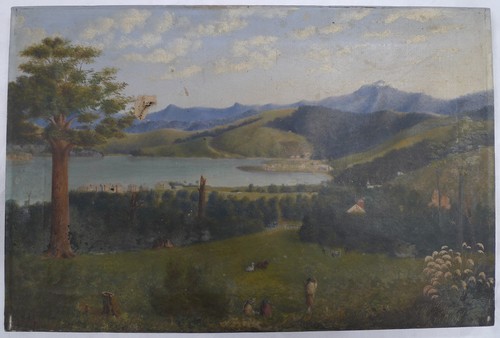 The influx of visitors has been described as a boom for the town, the result of cruise ships having to find an alternative to Lyttelton which is temporarily out of action due to the earthquakes. Over 80 cruise ships, each with around 1400 tourists, are expected in Akaroa harbour this summer as opposed to the average number of four per season.
Painted by Samuel Farr this work captures Akaroa at a more sedate, quieter period, namely the 1850s when the town was in its infancy. Farr's connection with Canterbury was serendipitous as he was originally intending to settle in Auckland. He made the journey across the Tasman Sea in the Monarch in March 1850 but unfortunately the ship lost its rudder and drifted for two weeks south of Stewart Island before a replacement was able to be constructed on board and fixed into place. The ship limped up the East Coast of the South Island before putting into Akaroa Harbour for repairs. Not surprisingly 41 passengers, including Farr, elected to settle in Akaroa rather than take to the high seas again.
Farr was a jack of all trades, he designed several buildings and churches in Christchurch, as well as the large water wheel at Robinson's Bay. He also turned his hand to painting and this example, along with three other works held at the Akaroa Museum, illustrate he was an adept amateur painter with an eye for detail. They are some of the earliest depictions of Akaroa and are likely to have been painted in the early 1850s, making them among the earliest oil paintings to have been completed in Canterbury.
Although it is currently not in the best condition with some considered conservation treatment this painting could one day be brought back to exhibition condition and enjoyed by visitors to Akaroa Museum.
And here, from our own collection, is a portrait of Mr Farr the artist, by the Australian James Balfour: