B.
A dingo in Somerset
Behind the scenes
There are many projects being worked on at Christchurch Art Gallery whilst we are closed to the public.
One considerable undertaking has been to look at the Gallery's collection and for each and every artwork still under copyright to seek new permissions. Artists and copyright holders throughout the world have been researched and contacted and a fascinating by-product of this process has been discovering stories connected with the artworks themselves. An instance of this is a linocut from the late 1930s by English artist Rachel Reckitt.
As an appreciative reader of author Penelope Lively's fiction and non fiction I remembered her family was connected with English company Reckitt and Coleman. In her 2001 memoir A House Unlocked, Mrs Lively mentioned that her artist aunt Rachel Reckitt owned a dingo purchased from London Zoo. I contacted her through her UK publisher and she confirmed for us that the dingo in the linocut is the very same dingo she knew in rural Somerset as a scared six year old in 1939. Her aunt assured everyone that the dingo was '...entirely benign. No one else was confident of that.'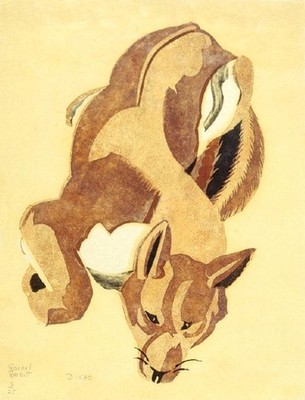 Further investigation in The Times confirmed that London Zoo did indeed breed dingoes and sold 'surplus' puppies.
From London Zoo in Regent's Park to Somerset and then eventually to Christchurch. A well travelled dingo indeed!