B.
Van der Velden vs McCahon
Behind the scenes
3 July 2011. Posted by Peter Vangioni
Van der Velden is leaving the building.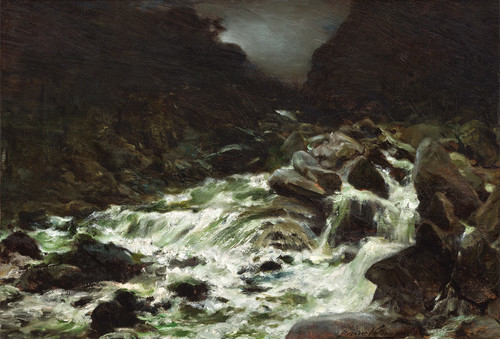 As the exhibition I curated is disbanded and the works returned to owners throughout the country I find myself reflecting on what my favourite painting in Van der Velden: Otira was.
It's the smallest work from the 'Mountain Stream' series. The bigger paintings of this subject are incredible and breathtaking in their sheer scale (something that was very rare in ninteenth-century New Zealand painting), but this small work is the darkest painting of the series and I love it for its vision.
In particular, I love the small touch of white van der Velden used to convey the torrent at the top of the mountain pass and the way that, illuminated in the gloomy half-light, it stands out against the darkness of the surrounding landscape. This painting really reminds me of McCahon's small waterfall series from the 1960s where light penetrates the darkness in much the same way as van der Velden's work. Van der Velden vs McCahon? Well it's van der Velden's Otira series all the way for me.
Related reading: Colin McCahon