B.
Domeless
Behind the scenes
The dome has been removed from the Cathedral of the Blessed Sacrament.
My route to work goes up and over a bridge which gives me a quick daily view of Christchurch's Roman Catholic cathedral. The two end towers are long gone and today the central dome is gone too. It's called 'de-construction' and is done with great care, but it is frankly hard to see how or when re-construction might ever take place. The Cathedral's website contains full details of this process.
The cathderal contains numerous commissioned works of art, Llew Summers's Stations of the Cross and Ria Bancroft's Tabernacle Screen Doors among them, and, until the building is safe to enter, their fate remains unclear.
However, parts of the original terracotta forms, from which Ria Bancroft's bronze doors were cast, were donated to this Gallery by the artist.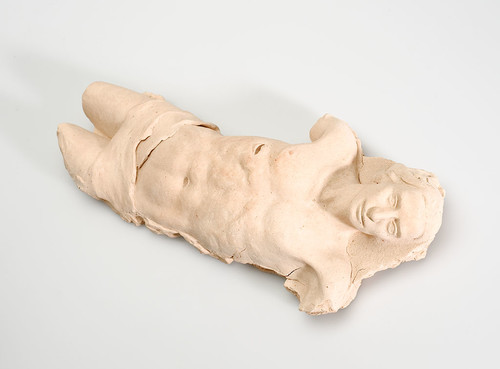 This is a fragment for the right-hand door, entitled 'Christ is risen'.
As buildings continue to tumble and a bleak midwinter gloom settles on the city, surely the need for some resurrection – spiritual or physical – has never been more pressing.